Australian DJs Nervo taped a special guest appearance on One Life to Live earlier this week and in the process gave fans a sneak peek at one of the new sets that will appear on the show.
Sisters Miriam Nervo and Olivia Nervo make up the duo, and they will appear spinning tunes at Llanview's new hot spot, the Shelter nightclub.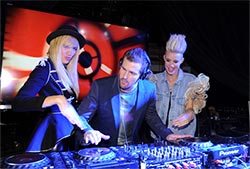 This isn't the first time that a musical act has appeared on One Life to Live. In fact, the show has an extensive history of featuring hit musicians playing themselves on the show.
After taping their segment, Nervo kept a watchful eye as actor Josh Kelly (Cutter Wentworth) got into the act and decided to try his hand at running the turntables.
For the past two years, Nervo has been making some serious noise in the dance world. In addition to being some of today's hottest DJs, the sisters are songwriters, producers, and artists in their own right. Nervo cowrote the Grammy Award-winning single "When Love Takes Over," performed by David Guetta and Kelly Rowland. The single hit #1 in eleven countries around the world.
Nervo also hosts NERVO Nation, a monthly DJ mix show on Sirius XM Channel 51. The pair will also appear as the resident DJs at the Wynn Hotel in Las Vegas.