MTV personality Jenni "JWOWW" Farley has landed a recurring role on One Life to Live.
Farley will play the role of Nikki -- not to be confused with one of Viki's alters -- a barmaid at Llanview's new nightclub, Shelter. In a case of fiction mirroring reality, it's said that Shelter's owner, Blair Cramer, has to keep a close eye on Nikki at all times.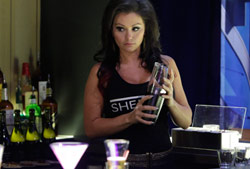 "I'm playing a bartender who sleeps with her boss. So it's me, basically. I used to be a bartender. I never slept with my boss, but I slept with plenty of people to know the attitude issue," JWOWW told MTV News. "And he's bringing around other girls in front of my face, so this role is totally me from night to day, day to night."
While on set, JWOWW got some acting tips from Josh Kelly (Cutter Wentworth), but things quickly got out of control. After Kelly showed JWOWW how to do a "pretend" soap slap, JWOWW tried to demonstrate what she'd learned and slapped Kelly for real!
In related news, Australian DJs Nervo taped a special appearance at the Shelter nightclub earlier in the week. For more on that, click here.
In addition to starring on MTV's Jersey Shore, JWOWW is currently appearing in the second season of the spinoff Snooki & JWOWW. Outside of her television success, Farley has written a book, launched a clothing line, and started her own web site.
Prospect Park has not yet announced when JWOWW's first appearance will air. The relaunched One Life to Live debuts online on April 29 via Hulu, Hulu Plus, and iTunes.