For several weeks, One Life to Live fans quietly wondered if David Fumero (Cristian Vega) would be leaving the show. Their jitters were heightened when at least one published report seemed to indicate that the actor's days in Llanview were drawing to a close.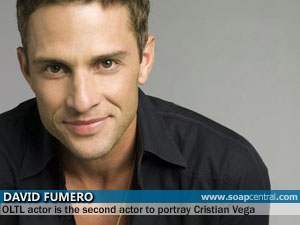 Fans can breathe a sigh of relief. Fumero isn't going anywhere.
A show source tells Soap Central that Fumero has signed a new contract with One Life to Live, thereby ending any speculation that the role might be phased out or even recast. Just a couple of weeks ago, things were markedly different; a source then told Soap Central that there was about a "50/50 chance" that the actor would exit the ABC soap.
Though perhaps the best-known Cristian, Fumero is not the only actor to play the role. Yorlin Madera originated the role in May 1995. Madera remained with the show through early 1998. Fumero took over in June 1998. Since that time, Fumero has made several brief exits from the show. The actor rejoined the show full-time in September 2005.
The length of Fumero's new contract has not been announced. ABC does not comment on rumors or contract talks, but a spokesperson has confirmed that Fumero has reupped with the show.
Photo: ABC/Marina Chavez