Taylor Gildersleeve
(ex-
Sydney Harris
, All My Children) has landed a role on One Life to Live. Gildersleeve will play the role of Leah, a character who has been rumored to be a possible source of friction between Starr and Cole. The actress' official web site broke the news.
"Congrats to Taylor, who booked [a] role on One Life to Live," the site announced. "She'll start to air this spring."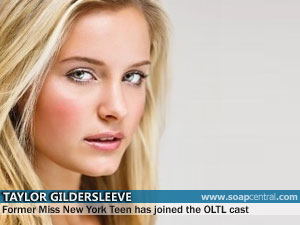 Gildersleeve is not a stranger to ABC Daytime. In 2006, Gildersleeve appeared briefly as Sydney Harris, one half of All My Children's version of Paris Hilton and Nicole Richie. The character was never fully developed and Gildersleeve was written out with little fanfare.
In addition to her work on All My Children, in 2008, Gildersleeve was named Miss New York Teen USA.
Despite claims on the actress' web site and elsewhere, the role is not a contract role. As originally reported by Soap Central, the original casting call for the role stated that the role would be recurring. The actress will air in no more than two episodes.
Photo: taylorgildersleeve.net