When
Dan Gauthier
(
Kevin Buchanan
) returned to One Life to Live earlier this year, fans lamented the fact that he was not joined by Gina Tognoni (Kelly Cramer), whose return as Gauthier's on-screen wife had just been announced by ABC.
Now, a One Life to Live spokesperson has confirmed that the Emmy-nominated Gauthier will return to the show in early 2010 -- and he'll get to share scenes with Tognoni.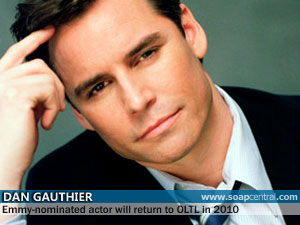 Gauthier, who joined One Life to Live in 2003, is the eighth actor to portray Kevin since 1990 and the eleventh actor overall. The average lifespan for an actor holding down the role of Kevin has been a little over one year. Timothy Gibbs , the Kevin directly before Gauthier, was a One Life to Live cast member for three years. Prior to that, you have to go all the way back to the 1970s to find an actor who portrayed Kevin for more than three years: Morgan K. Melis played a young Kevin from 1976 to 1981.
There's no immediate word on exactly how long Kevin will remain in Llanview. Since exiting One Life to Live in 2006, Gauthier has made a handful of sporadic appearances.
An exact first airdate for Gauthier has yet to be determined.
Photo: ABC
---

RELATED ARTICLE
Heather Tom says that she won't renew OLTL contract.
---
2018 DAYTIME EMMYS: SOAP CENTRAL'S COMPREHENSIVE COVERAGE