Since launching its first same-sex storyline earlier this year, One Life to Live's gay storyline has managed a relatively low profile among the non-soap viewing audience. There was no media blitz for the mass gay wedding the way that ABC had trumpeted the nuptials of All My Children's Bianca and Reese. Nor did anyone in the mainstream media seem to care that the legendary Dorian Lord would be marrying another a woman -- even if it was to try to win an election.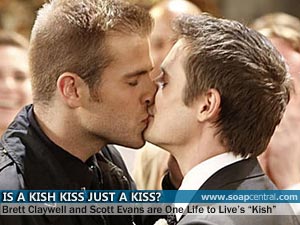 Still, fans of the Kyle Lewis and Olivier Fish romance -- affectionately dubbed "Kish" -- have remained stalwart supporters of the couple. Now comes word that fans will be rewarded for their loyalty: Advocate.com is reporting that One Life to Live's same-sex couple will have sex sometime before the end of the year.
"The show promises a happy gay New Year in Llanview," reports the companion web site to the nation's number one gay and lesbian news magazine.
In June, One Life to Live became the latest daytime drama series to explore a gay storyline. The show described the story as a "journey," while one of the actors involved in the plot has gone on to refer to it as a "love storyline."
Details on where and when Kyle and Fish will consummate their relationship are still under wraps.