Patricia Mauceri (Carlotta Vega), a 14-year veteran of One Life to Live, was abruptly dumped last week after she expressed concerns over the show's upcoming gay storyline and her alter ego's participation in it. The show responded by recasting the role.
"Carlotta was supposed to have a small role in the upcoming [Fish and Kyle] storyline," Daytime Confidential reports. "She objected to Carlotta's positive attitude about homosexuality, saying it conflicted with her personal beliefs."
The source explains that Mauceri does not have a personal problem with homosexuality, but rather that the actress doesn't believe that her character would respond the way she'd been written.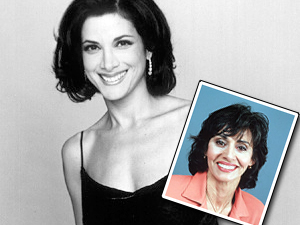 The storyline twist was apparently the last straw for Mauceri, who'd previously expressed her dissatisfaction over the rebranding of the Angel Square diner to the Buenos Dias Café to fans at last year's One Life to Live Fan Club gathering. A source tells Soap Central that Mauceri said she "felt like it insulted Carlotta's history with the show and [the actress] even encouraged fans to write in to protest the name change."
Fans have been left scratching their heads, wondering why a recurring performer would take issue with a relatively minor piece of a much larger storyline. Mauceri is the second performer in recent months to be without a job as a result of a gay-themed storyline. Chris Engen walked off the set of The Young and the Restless around the time his character was slated to have a sexual encounter with another man. Engen later released a statement refuting claims that he was homophobic and asserted that he left the top-rated CBS soap due to artistic differences.
With Mauceri out, soap opera vet Saundra Santiago has returned to the show to take over the role of Carlotta. Santiago previously appeared on One Life to Live in 2004 as Isobella Santi. Prior to that, Santiago enjoyed a three-year run as Guiding Light's lady mobster, Carmen Santos.
A One Life to Live spokesperson has confirmed that Santiago will take over as Carlotta. To clarify, Mauceri was technically not fired. Since the actress was on recurring status, she had no contractual obligation to the show -- and vice versa.
Santiago's first day at One Life to Live was Friday, June 26. A first airdate has not yet been announced.



Y&R actor reportedly walks out over gay storyline. [May 25, 2009]