Lionel Richie will become the latest singer to visit the fictional town of Llanview, when the Grammy award-winning artist tapes an appearance on One Life to Live this week. Richie will perform his latest hit single, "Just Go," at Capricorn.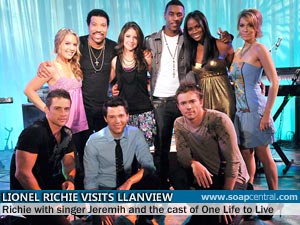 With his appearance on One Life to Live, Richie joins an ever-growing list of top-selling artists who have made stops on the 40-year-old ABC soap. In May, pop group the Pussycat Dolls performed at Llanview High School's prom. Last year, Mary J. Blige and Snoop Dogg made appearances. Over the years, more than a dozen hitmakers have performed on the soap.
"I don't want to have somebody on just because, 'Oh, aren't they fun?'" remarks One Life To Live executive producer Frank Valentini. "I want people with a record to promote. It helps the record label, and it helps us with increased ratings and as milestones in the history of the show that people still talk about."
Born in Tuskegee Institute, Alabama, five-time Grammy winner Lionel Richie's storied musical career spans more than 30 years. Richie got his start with the R&B group, the Commodores, before launching a successful solo career. His hits include "All Night Long," "Dancing On The Ceiling," and "Endless Love," a smash duet recorded with Diana Ross.
Richie's latest album, Just Go, is available for purchase in record stores nationwide. It is also available for download from online retailers.
Richie tapes his performance on June 12. He will be joined by R&B singer Jeremih. The episode will air September 29.
Photos: Island Records; Lorenzo Bevilaqua/ABC