A Martinez (Ray Montez) exits One Life to Live this week, meaning that the Montez family's time in Llanview has now drawn to a close. The actor's on-screen daughter, Camila Banus (Lola Montez), was written outlast month.
Martinez first appeared on One Life to Live in September 2008. The show proudly proclaimed the arrival of the heartthrob, but it was later revealed that Martinez would only be around for a handful of episodes. That didn't stop show executives from noticing the actor's chemistry with other performers.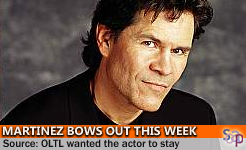 Martinez returned in December 2008 and caught the attention of one of One Life to Live's leading ladies. On her fan hotline, Robin Strasser (Dorian Lord) purred over the chance to work with Martinez. Though the couple sizzled, Martinez's desire to leave meant that any chance of a "DoRay" romance fizzled.
According to sources, ABC wanted Martinez to stick around. Martinez, however, did not want to relocate his family to New York from California. Flying Martinez back and forth to tape his scenes would prove too costly, as evidenced last year when Andrea Evans (Tina Lord) ended her transcontinental commutes to work.
Martinez last airs on June 10.