As previously reported by Soap Central, Andrea Evans (Tina Lord Roberts) has taped her final One Life to Live scenes. Now the actress and the show are commenting on the rumors that have piggybacked themselves onto Evans' exit.
In April, ABC proudly announced the return of Andrea Evans to One Life to Live. It had been 18 years since the actress has last appeared in the role, but just a little over a decade since Tina was last spotted in Llanview. While other actresses have assumed the role since Evans left One Life to Live in 1990, it is safe to say that for most OLTL viewers, Andrea Evans is Tina Lord.
Though Evans' return was highly publicized, neither Evans nor ABC would comment on exactly how long Tina would be sticking around in One Life to Live's storylines. It was always believed that Evans' return would be a short-term engagement. For eight years, Evans appeared as Rebecca Hotchkiss on NBC's Passions. At no time during that eight-year span did Evans ever appear on a contract basis with the soap -- even when her on-screen alter ego was front and center in major storylines.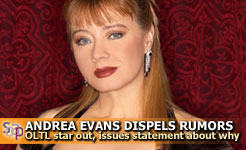 According to at least one Internet gossip column, ABC was incurring significant expenses by having Evans fly back and forth from coast to coast. The chatter went on to state that the network issued the actress an ultimatum: relocate to New York or find another job. The show, however, strongly refutes that claim.
"ABC and One Life to Live were thrilled to have Andrea Evans reprise the role of Tina Lord after 18 years," One Life to Live executive producer Frank Valentini said in a statement. "Her return was made possible with the understanding that it would be short term as Ms. Evans' life, family and home are on the West Coast. OLTL did not ask that she move across the country in order for her to return to the show."
"I didn't know how this was going to affect my own personal life with having to do so much traveling, and I'm in a situation where I can't relocate," Evans added. "I had a fabulous time bringing Tina back to the show and certainly hope that the chance to take on the role manifests itself again."
Evans may get her chance. The door will be left open for Tina to return at a future date, if the actress and storyline can both accommodate such a return.
"The character of Tina is a very important part of the OLTL canvas and when there is an opportunity to have her (Tina and Andrea) return at a future date, the show would be happy to explore it."
A final airdate for Evans has not yet been made available by ABC.