Depending upon your musical interests, Snoop Dogg may either be seen as a lyrical genius whose 2004 hit "Drop It Like It's Hot" topped Billboard's Hot 100 Chart or as a former gangbanger who has had numerous run-ins with the law. Regardless of your personal opinion of the hip-hop star, there is one surprising bit of information about the star that could make him more endearing to soap fans: Snoop is an avid One Life to Live fan.
Born Calvin Broadus, Snoop admits to growing up watching One Life to Live at his mother's knee. Now the rap star will have the chance to do what so many fans would like to do: appear alongside the fictional residents of Llanview, Pennsylvania in several upcoming episodes of One Life to Live.
What do you think of Snoop Dogg's offer to remix OLTL's opening theme?


I think it's great. I'm a fan and can't wait to hear his take on the theme.
50%
Hey, Snoop's remix can't be any worse than the way the theme sounds.
24%
I am not a fan of Snoop's music and would prefer he not remix the theme.
22%
I have no opinion about Snoop's OLTL remix at this time.
2%
I like Snoop, but I'd rather hear his music than a remixed opening tune.
2%
Other
1%
Poll Posted: March 19, 2008
Snoop Dogg's appearance on One Life to Live has been several months in the making. Snoop reportedly was a little jealous when his friend and colleague Mary J. Blige appeared on the show
in February
. It was Blige's second Llanview appearance in two years.
Blige's appearance prompted Snoop to offer his services to create a new opening theme song for the ABC soap. Network executives were reportedly thrilled with the offer and also extended an invitation to Snoop to appear on the show.
Snoop will appear at Llanview's Ultra Violet club during Adriana's bachelorette party. He will take the stage and perform Sensual Seduction and Life of Da Party, two tracks from his latest album, Ego Trippin'.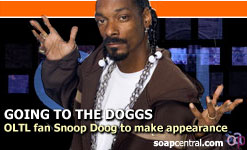 While the offer to perform on the show was appealing, it was the offer to remix the show's opening theme that sealed the deal for Snoop.
"My momma always had [One Life to Live] on the tube in tha crib growing up. The opportunity to change up the theme song and give it some of my flavor will make the show the Life of Da Party," Snoop quipped, playfully referencing one of the songs he'll perform on the show.
In addition to his musical numbers, Snoop will also have the opportunity to once again flex his acting muscles. Snoop has appeared in numerous film projects, including the role of Huggy Bear in the 2004 film remake of the television series Starsky & Hutch.
Snoop Dogg's daytime television debut hits the airwaves on May 8 and 9.