Fans crushed by As the World Turns' decision not to ask Hunt Block (ex-Craig Montgomery) to reprise the role of Craig earlier this year have something to cheer about. The actor is returning to daytime television - in a brand new role.
Block will join the cast of ABC's One Life to Live in the role Lee Ramsey, an FBI agent. Story breakdowns indicate that Block's G-man will be obsessed with tracking down a missing person. An insider tells Soap Central that the One Life to Live writers had scripted the role as a minor player - but when Block signed on for the part the role was revised to become more important to the show's story.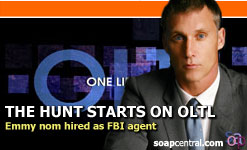 Block is a veteran of three daytime soaps and has earned two Daytime Emmy nominations. For his first two daytime roles on Guiding Light and All My Children, Block's on-screen personas met with rather tragic ends: both were killed off. Things took a much different turn in July 2000 when Block joined As the World Turns. His character became a quick favorite of then-head writer Hogan Sheffer (who now serves as the head writer of NBC's Days of our Lives). Block earned Daytime Emmy nominations in 2001 for Supporting Actor and 2002 for Lead Actor.
Block exited ATWT in August 2005 in what was labeled by the show as "storyline reasons." Insiders hinted that the show needed to trim its budget and had to cut Block (and his salary) from the roster. It was one year ago this week that the CBS soap announced that Craig was returning to town with a new actor in the role.
It is unclear how many of As the World Turns fans will flip the channel to check out the former Craig in his new role. In most markets, One Life to Live and As the World Turns air at the same time.
Block first airs on October 18th.