One Life to Live's plans to have Marty Saybrooke return to Llanview have hit a snag. The ABC soap was prepared to have Susan Haskell reprise her Emmy-winning role this fall, but now those plans have changed and the show is looking for a replacement actress.
According to show sources, Haskell and network execs had reached an agreement for Haskell to return to One Life to Live for an unspecified period of time. A planned storyline would have had Marty cross paths with Todd and Blair. However, due to an undisclosed reason Haskell had to pull out at the last minute.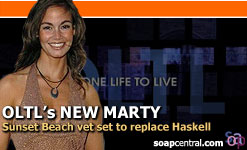 Haskell appeared on One Life to Live from 1992 to 1997, but made additional appearances in February 2004 and February 2005. In 1994, Haskell was awarded a Daytime Emmy in the Outstanding Supporting Actress category.
With the fan-favorite Haskell unavailable, One Life to Live's casting department put out a casting call to try to find big name talent to take over the role.
Last week, TVGuide.com reported that former General Hospital star - and an Emmy winner in her own right - Sarah Brown had been approached to possibly take over the role of Marty. Brown, Soap Central has learned, was open to the idea but did not want to commit to the show on a long-term basis.
Meanwhile, ABC's search for a new Marty continues.