Metzger Goes From Idol to Idle
By
Dan J Kroll

Posted Monday, February 27, 2006 12:49:31 AM
Matthew Metzger is out as OLTL's Duke. Are you disappointed?


I am, but Duke was really dull and I lost interest in the character.
39%
Yes. I think there was more story that could have been created for Duke.
38%
No. I think that Duke served his purpose and it's time for him to go.
10%
I'd like to see Duke recast and brought back with a different 'feel.'
8%
I don't really have an opinion on Metzger's release from OLTL.
2%
I'm a fan of Metzger, but he just didn't work well as part of the OLTL cast
2%
Other
0%
Poll Posted: April 10, 2006
Matthew Metzger
(
Duke Buchanan
) has come to the end of his run on One Life to Live. The under-used actor will once again find himself being voted off of a television series.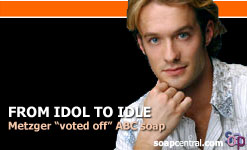 Fans of the hit television series American Idol already know that Metzger appeared in the third season of the singing competition. Metzger, a semi-finalist, finished 11th in the competition that was eventually won by Fantasia Barrino. One Life to Live marked the first professional acting gig for Metzger.
Duke returned to Llanview in August 2004 to attend business school, but his attention was soon diverted to family problems. Most recently, Duke was involved in a love triangle with Adriana and Rex.
A spokesperson for One Life to Live would not comment on Metzger's impending departure.
Metzger will exit during the May Sweeps period, but an exact final airdate has not yet been made available.




RELATED ARTICLE
Guiding Light star auditions for American Idol.
---
2018 DAYTIME EMMYS: SOAP CENTRAL'S COMPREHENSIVE COVERAGE