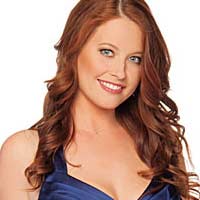 Melissa Archer re-signs with OLTL
By
Dan J Kroll

Posted Sunday, May 22, 2005 6:54:14 PM
Good news, Melissa Archer Melissa Archer (Natalie Vega) --- the actress will not be leaving One Life to Live as widely reported by other soap opera web sites. In an exclusive interview with Soap Central along the Red Carpet at this year's Daytime Emmys, the actress finally put the exit rumors to rest.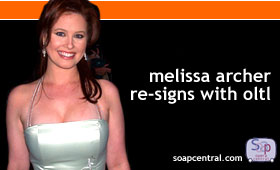 "I am staying and I am very excited about it," Archer beamed. "We all came to an agreement and I am very happy with it. I'd like to give a big time thank you to the fans. Thanks so much for all your support. Without you guys and your support with ABC -- and my agents and my managers and my support team -- we never would have been able to put all this together."

The contract talks between Archer and network executives had dragged on for weeks without resolve. Anxious fans began flooding the network and various agents with phone calls to ask for help in getting Archer a new contract. For quite a while it appeared that the stalemate between the two sides would not be resolved. In fact, the network went as far as to put out a casting call for the role of Natalie just in case Archer did not renew her contract.

With Archer sticking around, One Life to Live is expected to continue to capitalize on the contentious love triangle between Natalie, John and Evangeline. The romantic quandary has had fans engaging in heated discourse on our message boards for months.

Archer joined the cast of One Life to Live in July 2001.

An ABC spokesperson was unavailable for comment.



---
2018 DAYTIME EMMYS: SOAP CENTRAL'S COMPREHENSIVE COVERAGE