What is your reaction to Ilene Kristen going off contract at OLTL?


I'm crushed. Kristen's Roxy is a great part of OLTL.
71%
I think it's a smart move. Roxy doesn't have much purpose.
9%
I'm okay with it because she'll still be around occasionally
9%
I'm more puzzled than anything. She was just nominated for..
9%
I have no opinion of Kristen's change in status with OLTL.
1%
I don't understand what it means to be 'taken off contract.'
1%
Other
0%
Poll Posted: August 4, 2004
Emmy nominated
Ilene Kristen
(
Roxanne Balsom
) will be released from her One Life to Live contract later this year. A show spokesperson confirms the pending change in Kristen's contract status, but insists that it does not mean that the actress has been fired.
Kristen's contract "will not be renewed when it's up in September," a show spokesperson tells Soap Opera Central. "[However], she has not been fired or let go."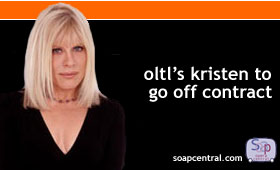 For a soap actor, a contract with a particular show guarantees that a performer will be seen in a set number of episodes each week or month. Recurring players do not have contracts with shows and are free to pursue work outside of the soap with which they are affiliated. Additionally, recurring players are paid only for episodes in which they appear. The move to take stars off contract is often used as a way to cut costs.
Kristen joined the cast of One Life to Live in November 2001. Despite having an extensive run in daytime television, earlier this year Kristen earned her first Daytime Emmy nomination for Outstanding Supporting Actress.
Prior to setting up shop in Llanview, Kristen was seen previously on Ryan's Hope as Delia Reid Colderidge off-and-on for 14 years. She has also held roles on Another World and Loving.