David Fumero (Cristian Vega) will be departing One Life to Live in October - and this time he's really leaving.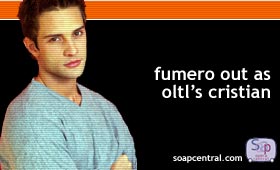 Two years ago, Fumero first announced his intentions to leave the fictional town of Llanview, Pennsylvania. Gary Tomlin, then the executive producer of One Life to Live, convinced the fan favorite actor to stick around the show for another contract cycle. According to Fumero, Tomlin pestered him "every day, trying to convince me to stay." Tomlin's persistence obviously won out and Fumero inked a new contract that kept him on the show.
In making his decision to leave One Life to Live, Fumero expressed a desire to "move on" to other projects. One Life to Live was Fumero's first acting job - and Fumero had never expected to be an actor. "I was planning to be an architect or engineer," Fumero states. Exactly what is next for Fumero isn't exactly known.
Fumero is expected to relocate from New York to the West Coast to pursue primetime projects. Coincidentally, Fumero's off-and-on girlfriend, Erin Torpey (ex-Jessica Buchanan, One Life to Live) is now living there.
Fumero will last air on October 27.
Photo: ABC