James DePaiva (Max Holden) has confirmed that he has been let go by One Life to Live. In fact, the long-time Llanview fixture has already taped his final scenes.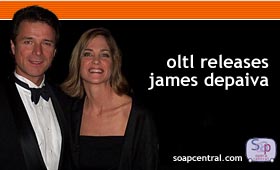 DePaiva joined the cast of One Life to Live in 1987 and, except for a period between 1990 and 1992, has been with the show ever since. DePaiva married co-star Kassie Wesley (Blair Cramer) on May 31, 1996. The DePaivas have a six-year-old son, James "JQ" Quentin DePaiva.
"They made it clear a long time ago that this was going to happen, so it wasn't a shock or a surprise," DePaiva said backstage at the 14th Annual OLTL fan club gathering. "I didn't know when it would be happening, so I haven't been pursuing anything, waiting for them to tell me something. They just told me I was fired yesterday."
Rumors have been circulating for months that DePaiva was on his way out. Online petitions have also been making the rounds. DePaiva announced his firing at this year's annual One Life to Live fan gathering in New York City. As DePaiva made his statement, wife Kassie was noticeably upset and burst into tears.
A setside source tells Soap Opera Central that the door will be left open for DePaiva's possible return, but the insider hints that it isn't likely that a return will be facilitated any time in the near future. DePaiva's exit is brought about by the exit of another OLTL performer, Nathaniel Marston (Al Holden). [See related article: Marston Ousted As OLTL's Al]
According to DePaiva, his final tape date was Friday, August 8. He last aired on October 27.
A spokesperson for One Life to Live was unavailable for comment.
Photo: Dan J Kroll/Soap Central