In recent years, The Daytime Emmys have all but overlooked One Life to Live. This year it looked to be more of the same for the 34-year-old soap.
One Life to Live had garnered seven nominations in this year's balloting. Five of the nominations were in the Creative Arts, or technical, area of the ballot. The final two nominations were for Outstanding Drama Series and Outstanding Writing Team.
In non-televised ceremonies held simultaneously in Los Angeles and New York a week before the nationally televised Emmy ceremony, One Life to Live was shut out in all five of the technical categories in which it was nominated.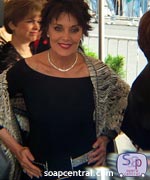 One Life to Live's executive producer, Gary Tomlin, had been quite outspoken about flaws in the Emmy process. How, he asked, could his show not receive a single acting nomination. Tomlin also pointed to the shutting out of Days of our Lives and Passions and the single nominations of General Hospital and Port Charles and the perennially top ranked The Young and the Restless as signs that something in the nomination process wasn't quite right.
As the Emmy telecast drew to a close, critics expected As The World Turns and All My Children to duke it out for top honors as the Outstanding Drama Series. The two soaps had earned the most nominations two years in a row. With just two previous nominations in the top soap category - way back in 1983 and 1999 - One Life to Live was a long-shot to win.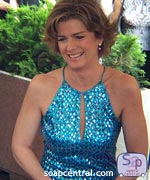 Well score one for the underdog: One Life to Live earned its very first Emmy trophy for the Outstanding Drama Series.
Tomlin and those One Life to Live stars in attendance looked stunned by the announcement. Linda Dano (Rae Cummings) turned to Tomlin and embraced him. Tomlin eventually made his way to the stage and admitted that he was "stunned and amazed" to have his soap named the best of the bunch. Tomlin credited the show's writing team, headed by Lorraine Broderick and Christopher Whitesell, and cast for the Emmy victory.
Backstage, Tomlin mused that he was probably the academy's "worst nightmare" for calling for reform. The victory, however, did not skew Tomlin's belief that a new nominating process is needed.
One Life to Live's single Emmy victory capped a week in which the show broadcast five live episodes.
CLICK HERE FOR COMPLETE COVERAGE OF THIS YEAR'S EMMYS
---