David Fumero (Cristian Vega) has made an about face on his plans to leave One Life to Live when his contract expires.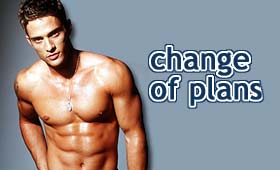 Fumero has signed a new three-year deal to remain with One Life to Live.
Earlier this year, the actor had announced his plans to pack up and leave New York City at the conclusion of his contract. The planned move brought rumors that Fumero had been considered for a role on CBS's The Bold and the Beautiful, which has just recently added a handful of Latino characters to its canvas.
Some had speculated that Fumero wanted out of the show because he and long-time girlfriend Erin Torpey (Jessica) had recently called an end to their relationship.
All the while OLTL executive producer Gary Tomlin had been quite vocal about not wanting Fumero to leave. After all, the show had already been reeling for the departures of several other of the show's prominent young, male performers. One report says that Tomlin had planned to "pester" Fumero every day until he agreed to stick around.
---
---
MAKING HEADLINES: NEWS FROM AROUND THE SOAPS