An EXCLUSIVE interview with Christine Toy Johnson
By
Dan J Kroll

Posted Sunday, July 23, 2000 8:53:15 PM
Recently, Soap Central had the privilege of submitting your questions to Christine Toy Johnson, who has played Detective Lisa West on One Life to Live since 1998.
As the current, although too often hidden, paramour of Llanview's District Attorney, Hank Gannon, Lisa's warm and genuine presence lights up the room of any scene she graces.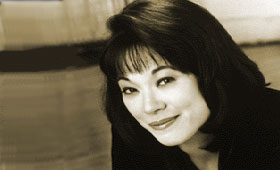 As the woman behind Detective West, Johnson is seemingly tireless in her participation in OLTL fan events and charity functions. Most recently, she took part in The Paws Walk 2000 to promote responsible pet ownership and provide emergency medical care and adoption services for needy pets. Professionally, Johnson has been busy on the big screen with parts in such features as Sliver, Conspiracy Theory, and Jungle2Jungle.
Question (Q) When did you decide to become an actress?
Christine Toy Johnson (CTJ) I was one of those kids who was putting on shows for the family at holidays...so I guess it's always been in my blood. I also was a professional model (discovered in nursery school!) at age 4, doing ads for Buster Brown, Life Cereal, and Scotchguard. I started working professionally as an actress at age 16.

Q: What was your first acting job?
CTJ: My first professional acting job was as "Liat" in the musical SOUTH PACIFIC at a dinner theatre in Elmsford, New York.

Q: When is your birthday?
CTJ: December 26

Q: How did you find out about the role on OLTL?
CTJ: I was doing an Off-Broadway show with Jill Farren Phelps' daughter, and one day Courtney told me that her Mom (who had seen the show four times) had pitched me for a part! A few days later, sure enough, my agents called me with the audition for what was then called "Detective Mei Ling King" (cringe)

Q: Who did you audition with?
CTJ: It was just me, the camera, Casting Director Julie Madison and her assistant, Sheryl Baker.

Q: Will we get to see more of Lisa and her relationship with Hank?
CTJ: Who knows??? I certainly don't.
Q: How much advance notice do you get that you have to be there?
CTJ: I usually find out about three weeks in advance.
Q: Is it difficult to schedule other acting jobs around the show?
CTJ: So far it has worked out pretty well. The biggest advantage to being on "recurring" status is that I have the prerogative to take other jobs and let OLTL know when I am and am not available. Also, there are times when I can check the preliminary cast lists early enough to know whether or not I can accept another job that might come up with little lead time.
Q: What types of music do you like?
CTJ: I love a wide variety of music, from Broadway to jazz to pop to classical to pop/soul.
Q: What would you like to see Lisa do on the show?
CTJ: I would love to see Lisa have a more active storyline, of course, in which she could show more dimensions of her character, interacting with more of the other characters, as well. I would love to see her get really involved in solving a great detective case, as well as in a really juicy romance...and maybe even sing! :)
Q: Do you spend time with any of the other OLTL actors after hours?
CTJ: I am especially good friends with John Bolger (Sykes), Timothy Stickney (Kevin) and Susie Misner(ex-Grace) and also enjoy socializing with Gina Tognoni (Kelly), Don Jeffcoat (Joey), Nathan Purdee (Hank) and Kamar de los Reyes (Antonio).
Q: What was your first day at OLTL like?
CTJ: I was nervous, of course, but warmly welcomed - especially by Timothy Stickney, John Bolger and Nathan Purdee. How lucky could I get, to work with all those guys right off the bat?
Q: Do you get your own dressing room?
CTJ: I get my own space when I work, but because I'm on "recurring" status, I don't have my own permanent dressing room. I will get assigned to someone else's (who isn't working that day).
Q: Do you enjoy doing TV or theater more?
CTJ: I truly love them both! I feel really lucky to have a great balance of the two right now!