Summer slowdown?
For the Week of June 21, 2010
Last week was a long one on One Life to Live. Perhaps it was because I got spoiled with Bo and Nora's wedding, or maybe it was the episodes themselves, but the show didn't hold my interest last week. I realize that the start of summer often signifies a slowdown in storytelling, but I hope last week won't set the tone for the next couple of months.


Too much of the show revolved around James and Nate, two mostly unknown, new characters. We watched James panic as he realized that "his" suitcase of cash was missing, and we watched Nate convince himself that it was okay to keep it because he and his mother needed it. Neither of these characters' stories is compelling because I don't have a reason to be invested in them yet.


Nate appeared out of nowhere to be in the musical and to woo Danielle away from Matthew. That's really all he has contributed so far, and that's not much. Now, his mother is in Llanview, and so far, she has decided that accepting money that was obtained under false pretenses is okay because she needs it. Rationalizing things must run in the family!


I can only guess that Nate is getting a story and a mother so quickly because he is connected to someone in Llanview, and we just don't know it yet. However, if this is the case, I hope the development is revealed soon. So far, his story seems unnecessary, and there are other established characters that actually need a story!


As for James, I hope kidnapping Starr doesn't develop into something romantic between them. It seemed like he and Starr were being given a chemistry test last week, and with the news of Brandon Buddy's upcoming exit, it seems even more likely. The problem is, James doesn't seem like a good fit, even if Starr does grow to like him. He is full of stories and excuses about things he has done, and while we don't know that he's lying, something is definitely off. I hope Starr wouldn't want to get romantically involved with someone who has so many things to explain and a creepy thug following him.


By the way, how many times is Starr supposed to be kidnapped in her life? I don't know if the writers have run out of ideas for her, or if they think viewers like seeing her taken against her own will, but it's getting old! I don't want Starr to turn into a constant victim. We already have Jessica; we don't need another one!


As I mentioned before, Brandon Buddy has announced that he is leaving One Life to Live, which makes me wonder how Cole will exit. While it's possible that Cole will be recast, Cole's current story leaves the option open to write him out. He could go to prison for attacking Todd, he and Starr could break up because of their differences about Todd, or something bad could happen to him, courtesy of Hannah. I hope the character isn't killed off, though. Marty has been through enough already, and we don't need to see her lose a child on top of it all.


However, I suspect that if Cole does leave Llanview instead of being recast, Marty will have little reason to stay in Llanview. It will be interesting to see what happens with both characters. I think Brandon Buddy is a good actor and has become a strong part of the show, so he will be missed. I am sure he will do great things in the future, though, and I wish him well!


A few weeks ago, I felt bad for the Llanview's High's graduating class because their prom was hijacked by Jessica's childish behavior. Last week, I felt bad for the graduating class because they had to sit through Langston's bizarre speech. I am glad she is fully aware that she's made mistakes and needs to make them, but she had this epiphany at an inopportune time! By the way, isn't it amazing that one of the characters of a television show is always valedictorian? I guess Langston had time to study a lot even while having an affair with Ford!


While I am glad that so much of Starr's family was able to attend her graduation ceremony (except poor Addie!), Viki and Dorian's behavior left a lot to be desired. I am thrilled that both women are getting a story and air time, but I think this story is beneath them. Dorian and Viki have many reasons to dislike each other and to argue, so inventing silly situations isn't necessary.


I wish Dorian would stop pursuing Charlie, and I wish Viki wouldn't take the bait and act in kind. It might be okay if Viki and Charlie hadn't just reconciled after a difficult separation, but to watch them get jealous so soon isn't funny. Charlie shouldn't have ever agreed to work for Dorian considering the circumstances, but she knew how to spin it to make it seem like it was all about helping the community. She's really that good at manipulation. However, I hope Charlie doesn't fall for any of Dorian's shady tactics.


On the other hand, I like the idea of David working for Viki but not if it's for the sole purpose of making Dorian jealous. All four of these actors deserve better material than this, especially when their big scene of the week involves throwing punch at each other at a high school. The setting was appropriate for their behavior, but the characters should be better than that.


While I usually enjoy David's stories, I didn't like him exposing Matthew to prostitutes to heal his broken heart. Matthew has always been an older soul, but he is still a minor, and even David should have known it was inappropriate to take Matthew to a bar with prostitutes. I am relieved that Matthew didn't do anything with the prostitute that David assigned to him, but the scenes were still hard to watch. I think David will have a few rifles pointed at him as soon as Clint, Bo, and Nora find out what he did!


As for Jessica, she remains convinced that she or one of her alters attacked Ford. I still hope that she didn't. Like Starr, bad stuff keeps happening to her, and it's getting old. I am not anxious to see any of her alters return or for Jessica to start having flashbacks of attacking Ford. She has been through enough, and she doesn't need to add yet another thing to her list of life events that she must accept. I am glad that she told Kelly the truth about visiting Ford, though. Kelly is adamant that Jessica didn't attack Ford, and while she doesn't have proof that she is right, I am glad she continues to put the idea in Jessica's head. It might actually be the most useful thing that Kelly has done since her uneventful return to Llanview.


I never thought I'd say this, but Rex and Gigi's date was a highlight of the week. Don't forget I thought it was a long week! I haven't decided how I feel about them getting back together, but I am glad they are taking things slowly. They both are appropriately hesitant about reuniting after everything they've been through. It's refreshing to see people take their time instead of jumping back into a relationship and wondering why it didn't work out the second time. Maybe Rex and Gigi can make me a fan again. It will take a lot, but at least they are starting out the right way.


I actually liked some of Todd and Téa's scenes last week as Todd dealt with finding out about Téa's brain tumor. While I don't like how he tried to take charge of the situation like he usually does, he was very supportive during her radiation therapy. Their banter as she underwent treatment was cute and took her mind off of the task at hand. He also toned down his behavior after the fact and is trying to be there for her in a way that is helpful. I hope Todd does come through for Téa in a positive way. It's nice to see him think of someone else for a change!


I hope we still get to see Téa and Blair in scenes together even though Todd knows the truth about Téa. While Blair and Téa make great enemies, they also make great friends, and I'd like to see more of that. Now that Todd knows, it could be interesting if Todd and Blair could form an alliance to help Téa through her ordeal. I don't want to see Todd and Blair get back together, but it would be nice to see them get along for the greater good.


Speaking of the greater good, I think Cristian and Layla did the right thing by asking Ford to leave their apartment. He obviously isn't going to change his ways, so it would be an uncomfortable living situation. I feel bad for Ford, though. He was grilled by John and kicked out of his home right after regaining consciousness. It's amazing he still wanted to hit on a nurse. He and Hannah might not like each other right now, but they have one thing in common, and that is…persistence!


Finally, it looks like Hannah is beginning to unravel. People have suspected that she was at least a little crazy since she arrived, and her confrontation with Marty basically proved that they were right. She is getting nervous about what people think of her, and she thinks a picture of Starr talking to James will make Cole angry. Now that she knows that John is suspicious of her, I am sure she will get even more desperate. It might only be a matter of time before she ends up in St. Ann's or sharing a prison cell with Lindsay Rappaport! Maybe we can trade Hannah for Lindsay. Wouldn't that be a nice surprise when Nora returns from her honeymoon?

Until next time,
Dawn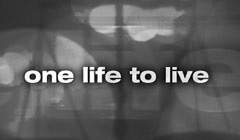 Dawn
Two Scoops is an opinion column. The views expressed are not designed to be indicative of the opinions of soapcentral.com or its advertisers. The Two Scoops section allows our Scoop staff to discuss what might happen, what has happened, and to take a look at the logistics of it all. They stand by their opinions and do not expect others to share the same view point.
SOAPULARITY: WHAT'S TRENDING