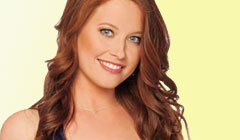 Meanwhile, across the pond...
For the Week of October 26, 2009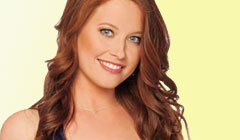 It was a revealing week in Llanview, as Gigi and Rex realized they needed help, Jared disappeared, Tea's daughter appeared in London, Blair lied to Todd, Bo and Nora questioned their choice to move Matthew to London, and Dorian and David discussed Dorian's engagement. Kim decided to stalk Bo, and the cast of this show continued to grow bigger. What a week!

Gigi and Rex have been doing everything they could to ruin their relationship for months, but they surprised me last week, as they decided to go to counseling. As they made this decision, I wondered how many couples in the history of soap operas have ever gone to counseling. I suppose it rarely happens because it's not dramatic enough. It's much more exciting to see couples break up in the heat of the moment and then reunite later. It remains to be seen if Gigi and Rex will actually be counseled by Marty, but I still thought it was kind of mature of them to decide they needed professional help! Of course, Natalie ruined the moment when she begged Rex to help her find Jared and told him he couldn't tell Gigi why he had to leave abruptly. I can see why Natalie wanted to keep her mission a secret, but she certainly didn't seem that concerned about how Gigi would accept it! Hopefully she and Rex will return before Gigi starts to question her decision to stay with Rex. Actually, with the way Gigi and Rex have been acting the last few months, maybe Gigi should question her decision. It's hard to care anymore!

I can't blame Natalie for wanting to find Jared. He has a lot of explaining to do, and she doesn't know what to believe anymore. I think Jared is being forced to do things by someone who is blackmailing him or otherwise pressuring him to comply. I don't believe that Jared has been putting on an act this whole time and has been waiting to seek revenge. It just doesn't make sense. Now we have to wonder if Jared killed Pamela. I don't think he did because it looked like he did. Sometimes things are just too obvious to be true, and I think this is one of those times. While I question why Jared is being written out to begin with, the writers have created an interesting mystery surrounding his exit. Jared's role in the stalking plot isn't obvious. He could either be incredibly guilty, or things could not be what they seem. Since Jared looked so surprised when he arrived at the lodge last week, it seems like he isn't in charge of the situation. He received ominous text messages telling him what to do, he felt obligated to comply. That made it seem like he is working for someone else. However, he told Natalie that he knew the man they found at Llanfair and that he had been communicating with him recently. The story could go either way at this point, and I like that the outcome isn't overtly clear. There are few true mysteries on soap operas these days, so I am enjoying this one as it unfolds!

I enjoyed Tea and Rachel's discussion last week. Tea has practically made a career out of being cryptic since she returned to Llanview, so it was refreshing to see her be completely honest with Rachel about her situation. They need to talk more often. Rachel is good at getting the root of a problem, and she told Tea exactly what she needed to do. Tea nor Rachel have many friends in Llanview, and since Viki is busy campaigning, Tea needs someone else to give her advice. I am glad they were able to get past the contrived courtroom scene we saw a few weeks ago. Good friendships shouldn't be ruined for the sake of courtroom theatrics! The most important thing that we learned from Tea in this conversation was that Ross doesn't know that Danielle isn't his his biological daughter. That changes how I look at him now. I thought he was in on the plan to hide Todd's child from him, but it turns out that Tea has been hiding the truth from him too. I hope Tea takes Rachel's advice and FINALLY tells the truth and nothing but the truth. Tea made the decision to hide Danielle for her own reasons, but now that at least two people in Llanview know the truth, it's only a matter of time before it is revealed in the worst way and in the worst place possible. Tea had better hope she isn't chosen as Woman of the Year this year!

Rachel also told Tea about her situation with Greg and Shaun. Now that Shaun is awake and ready to pick up where he left off with her, she has to deal with her feelings for both men. Rachel needs to follow Tea's advice and be honest. Tea was right. There will never be a good time to tell Shaun, but she can't let him go on thinking that they have a future when they don't. She is in a similar situation as Tea, as Greg and Shaun's mother knows that there is something happening between Greg and Rachel. Once people start figuring out the truth, the secret can't be kept a secret for too much longer! As I said, these two women need each other right now, if they actually take each other's advice!

Back to Tea's situation, it was great to "meet" Tea's daughter. Although we only saw Danielle briefly, it looks like the powers that be did a good job with casting the role. The actress looks like a good mixture of Tea and Todd. I hope we get to see what her relationship with Tea is like soon. We've heard one-sided conversations of Tea talking to her on the phone, but we need to see them interact more. When Tea told Rachel about why she sent Danielle to boarding school, it was the first time that Tea actually seemed like a mother. It's obvious that Tea wants Danielle to have a great life, but I wonder if Danielle understands that. I always wonder how children feel about being sent to boarding school, and it seems like Danielle feels at least a little neglected, based on what we heard Tea say to her on the phone. Since Tea has been in Llanview for a year, it is probably a valid feeling. I always wondered how Tea could have a child that didn't need anything from her for a year! I suspect the "Tea has a secret" story was conceived after Tea returned to Llanview, but I wish there were some explanation of why Tea hasn't seen her daughter since she returned. I hope we get to see Tea and Danielle in the same room or even on the same continent in the near future.

The next step in watching Tea's secret unravel is for Todd to find out. It doesn't look like he will learn the truth immediately as he should, since Blair has suddenly decided to keep quiet, and Todd will probably refuse to talk to Tea after the lies Blair told him about her. I don't understand Blair at all. She obviously wants Todd back, but she is keeping the truth from him and telling lies to get what she wants. I don't know how she thinks that is better than Tea keeping a secret from Todd, and she has to know that he will find out. The other thing is, she spent a lot of time and energy investigating Tea, and now that she knows Tea's entire secret, she is taking a vow of silence. Having Marty hypnotize Blair was the most contrived scene of the week, but at least Marty reminded Blair that Todd doesn't react well to secrets. Everyone knows that, except for Blair. I don't know how she thinks she will win in this situation. She will look as bad to Todd as Tea once the whole truth is revealed. I have never been a big fan of Blair, but it seems like the writers are going out of their way to make her unlikeable in this story. I hope Blair comes to her senses soon, but I wouldn't bet any money on it!

I also hope Bo and Nora come to their senses soon. I understand why they thought they felt they had to take drastic measures to protect Matthew, but the way they did it was horrible. Matthew has absolutely no reason to trust his parents ever again. They made him believe that they were supporting his decision to have the surgery and then told him he was going to boarding school without any notice. They sprung several changes on him without allowing him to process any of it, and they didn't seem to think he would care. They couldn't have been more wrong! I don't know why Bo and Nora are surprised by Matthew's anger towards them. They weren't honest with him, and they aren't considering how he feels at all. They are making the situation even worse by trying to stop him from communicating with anyone in Llanview. Matthew's boarding school looks old fashioned, but I saw a computer in Matthew's room, and I am sure he can access the internet and talk to Destiny or anyone else he wants. I am also sure that other students have cell phones just like the one he borrowed from Danielle, so trying to keep Matthew isolated simply won't work. He will be even angrier at Bo and Nora when he learns that they kept the truth about Shaun waking up from him. I am glad that Kevin is there for Matthew because Bo and Nora are so busy rationalizing what they did that they don't seem to notice how Matthew is handling everything. This story is hard to watch because I usually like Bo and Nora, but they have gone way over the top this time, and it will take a long time for them to repair their relationship with Matthew. I don't know how long Matthew will be in London, but I am sure Matthew will have the surgery and will walk again. I hope that happens sooner instead of later because it is hard to watch the strain between Matthew and his parents escalate.

David and Dorian's conversation about her upcoming wedding was interesting and revealed a lot about how both of them really felt. David and Dorian aren't ones to get mushy or discuss feelings openly, so these scenes really stood out. David has been upset because of Dorian's decision to marry Amelia, but we finally got to the root of why last week. David wants Dorian to marry for love, and Dorian still feels scorned by David repeatedly leaving her, first because of Spencer and then for Have-a-Seat. Their conversation reaffirmed what David said when they decided to divorce a few months ago. Their timing was never right. David revealed that he didn't come back to Llanview for a reality show but for Dorian. Now she is marrying Amelia, and the timing is bad again. It will be interesting to see how this plays out. The kiss proved that Dorian and David still want each other, but Dorian loves winning just as much. It seems like the wedding will be less about the issue of gay marriage and more about the feelings of those who are there. I think Dorian will marry Amelia regardless of anything David might say or do, but Dorian and David can't stay away from each other for too long, and that's the way it should be between the two of them!

We didn't see Stacy and Kim much last week, which was good, but I could have gone without seeing them at all! I really don't want to see Stacy chase Bo around and try to win him over. It seems pointless and just opens the door for Stacy and Kim to work together to win a man yet again. It's bad enough to watch Stacy and Kim scheme to fool Rex, but now they are going to go after Bo too. Make it stop! Interestingly, Stacy has been more tolerable lately because she hasn't been ranting and raving about how Rex is hers, but her scenes with Kim are frivolous at best. I wish they had gone to Los Angeles when Kim suggested it a few weeks ago. I can't take much more of their scheming!

I liked all of the references to volunteering last week. Starr, Langston, and Shane all did volunteer work last week, which coincided with ABC's new volunteering campaign quite well. I don't mind that because it sends a good message, and it's great to see soap characters think about someone other than themselves for a change. However, must ABC have characters give mini- commercials about Hershey's candy too? There are already enough commercials crammed into each episode; they don't need to become part of the characters' dialogue too!

Random Thoughts: Cristian and Layla are growing closer as many predicted, but I am glad the issue of Evangeline came up. There is a lot of history there, and they can't ignore it! I don't like how Nick used guilt to get Kyle to accept his marriage proposal. I liked them together before, but now I am not so sure! Finally, I loved David and Destiny's scenes! These two characters don't have many reasons to talk to each other, but I hope we see them interact again!


Until next time,

Dawn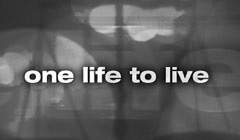 Dawn
Two Scoops is an opinion column. The views expressed are not designed to be indicative of the opinions of soapcentral.com or its advertisers. The Two Scoops section allows our Scoop staff to discuss what might happen, what has happened, and to take a look at the logistics of it all. They stand by their opinions and do not expect others to share the same view point.
SOAPULARITY: WHAT'S TRENDING