Guiding Light fans, already hit hard by the sudden departure of Ricky Paull Goldin (ex-Gus Aituro) in March and the numerous soon-to-be departing rumors about other cast members, have found yet another thing to worry about. Concerns were raised last week when Emmy-winning star Kim Zimmer (Reva Shayne) made a distressing post on her official message board.
"My absence on the show has been greatly noticed! Not just by me and you, my fabulous die-hards, but also by my business manager," Zimmer posted. "I have no idea what this regime is doing! All I know is that for the first time in my history on this show I am way under my guaranteed number of shows."
Zimmer's remark about guaranteed shows refers to the number of episodes each actor is promised to appear in each week. This guarantee is written into each actor's contract and varies from performer to performer. It is this guarantee that influences how much an actor will be paid.
In Zimmer's case, she is essentially being paid not to work. And with Guiding Light already number crunching to stay on or under budget, Zimmer says she's baffled.
"I don't understand," continued Zimmer, "why they would rather pay a character (actor) with such history and connection to what was Guiding Light to not work than to work said actor their negotiated number of shows a week."
What do you make of Kim Zimmer's comments on her frustration with GL?


I am terrified that Zimmer will leave GL. If she does, the show's done.
38%
Good for her. She's a huge asset to GL and she needs to be utilized better.
27%
I am not really a Reva fan, so I'm not really concerned about her comments.
27%
Sounds like Zimmer's using this as leverage in her upcoming contract talks.
4%
She's being a little touchy. Reva always has story. This is just a break.
3%
I have no opinion on Zimmer's remarks at this time.
0%
I'm not sure what to make of the comments. It all seems very odd.
0%
Other
0%
Poll Posted: April 18th. 2008
Zimmer says she is unsure who is responsible for Reva's lack of screen time, the show's writers, the executive producer or the "suits" at Procter & Gamble Productions, the production company in charge of Guiding Light.
"I don't know who the powers that be dislike more, Kim Zimmer or Reva Shayne," Zimmer fumed. She expressed how she feels succinctly. "Sour grapes? Damn straight!!!"
Fans are hopeful that Zimmer's frustration and visible message will be heard loud and clear. Even before Zimmer made her concerns public, the show announced plans for an upcoming storyline for the multiple Emmy winner. Veteran actor Gil Rogers returns to the show next month to reprise his role as Hawk Shayne, Reva's father. Head writer David Kreizman has promised that Hawk's return will jumpstart a new story for Reva.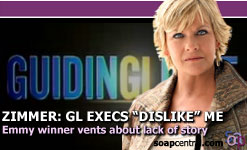 Still, many fans are understandably nervous. Earlier this year, long-time As the World Turns veteran Martha Byrne (Lily Snyder) parted ways with the CBS soap. During contract negotiations, Byrne had asked that her new contract offer her the same number of guaranteed shows as her previous contract. Show execs balked at the request and, later that same day, the show put out a casting call for a new actress to play Byrne's role in the event that the two sides could not come to terms on a new contract. The move infuriated Byrne and she walked. Like Guiding Light, As the World Turns is also produced by Procter & Gamble Productions.
This is not the first time that Zimmer and Guiding Light have been at odds over a contract. In 2005, Zimmer was reportedly close to walking because the show had asked her to take a pay cut. Zimmer asserted that she could not be forced to take a reduced salary until the end of her contract, which was not set to expire at the time. A year later, when her contract really was up for renewal, the same exit rumors made the rounds.
Zimmer and GL are either already in the early stages of contract talks or prepping to go into talks. The actress' current contract expires this summer.
Zimmer joined Guiding Light in November 1983. She left the show in July 1990, but returned in April 1995 and has been with the show ever since. During her run with the show, she has received four Daytime Emmy wins in the Outstanding Lead Actress category. She has also tallied an impressive seven additional nominations.