Many Guiding Light fans were elated when Emmy winner Crystal Chappell (Olivia Spencer) renewed her contract with the show earlier this year. During a time when much of the show's cast had been receiving pink slips and fears that the show would be cancelled were heightened, it seemed like a really good sign.
Now comes word that Chappell wants out -- and rumors are floating that she might make a return to some familiar stomping grounds.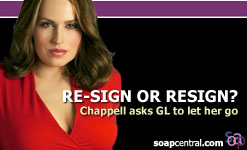 "I did ask to be released from my [Guiding Light] contract," Chappell confirmed, "but for my own reasons. It's not about going anywhere else."
Despite Chappell's implications that she isn't necessarily looking to head to another soap, backstage sources say that the actress has been in talks with ABC's One Life to Live. But if Chappell were to return, it would not be to the role of Maggie Carpenter, a role she played from 1995 to 1997. There are now rumblings that the role could possibly be yet another recast of Paige Miller or even a replacement for Hillary B. Smith, who is at a contract impasse with the network.
Guiding Light, plagued by an exodus of top name stars in recent weeks, has thus far reportedly refused to let Chappell walk.
"Crystal re-signed with the show two months ago," a spokesperson told Soap Central. "We are thrilled that she did it and excited that she will remain a part of the Springfield canvas. We have great story ahead for Olivia."
As for those rumors about Chappell wanting to jump ship, an ABC spokesperson declined to comment, saying that the network does not comment on contract negotiations.
Chappell joined the cast of Guiding Light in July 1999. In 2002 the actress was awarded the Daytime Emmy for Outstanding Supporting Actress.