A spokesperson for Guiding Light has confirmed that Marty West (Shayne Lewis) has been let go from the show.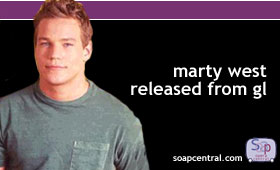 The announcement of West's exit may come as a surprise to many Guiding Light viewers -- and it surprised the actor, too. After what West calls "the initial shock" of being let go, he says that he was able to look back at his Guiding Light tenure with nothing but happy memories and has "nothing but great things to say about [his] time with the show."
According to a show spokesperson, West's exit is "storyline-dictated [and] the role will not be recast." A recent casting call for a character that sounded an awful lot like Shayne has turned out to be for a new character. West's exit is expected to be one of several as GL's new head writer settles into his new role with the show.
According to a statement made by West, he plans to move back to the West Coast and actively begin auditioning for other shows -- though he did not specifically state whether he would seek out work in daytime television.
West made his debut on Guiding Light on Valentine's Day 2003. He will continue to tape through July 24 and will last air on August 16.