According to Guiding Light insiders, episodes of Guiding Light will resume airing the same day across the nation following the NCAA basketball tournament in March.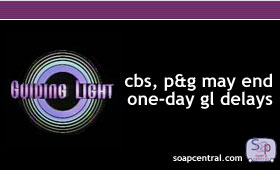 Many of the show's larger markets - including New York - are currently on a one-day delay because of scheduling problems. Because of this, many viewers are seeing shows on day later than the rest of the country. This also means that the daily recaps posted on Soap Opera Central don't necessarily jibe with what has been seen on-screen for some GL fans.
The reason for the delay, according to an industry expert, has to do with scheduling problems on some networks. Because of low ratings, some CBS affiliates were allowed to move Guiding Light from its standard 3:00pm timeslot and shift it elsewhere in the daytime lineup. For those markets that opted to air Guiding Light earlier in the day, they were not able to get that day's episode feed from CBS. Therefore, the affiliates had to resort to airing the previous day's episode.
A spokesperson for P&G and Guiding Light had no comment on the reports.