Role of GL's Eden Is Recast
By
Dan J Kroll

Posted Thursday, September 04, 2003 9:57:34 PM
The role of Eden August on Guiding Light has been recast. Out is Teresa Hill, who originated the role last year. A relative newcomer to daytime will assume the role by month's end.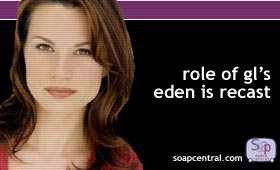 A final airdate for Hill was unavailable, however, she will last air this month. A spokesperson for GL declined to comment on why Hill was released from the role. Hill joined the cast of Guiding Light on August 9, 2002.

Deborah Zoe will take over the role of Eden August on September 30th. Zoe previously appeared on the now-cancelled soap, Sunset Beach. Zoe has also appeared in episodes of Spin City and the Emmy Award winning HBO series Sex and the City.


2018 DAYTIME EMMYS: SOAP CENTRAL'S COMPREHENSIVE COVERAGE