Saundra Santiago (Carmen Santos) will once again be exiting Guiding Light. Fans of the show will know that this is not the first time that the actress has been released from her contract.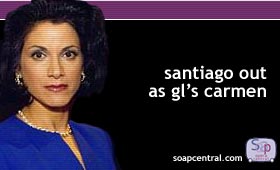 Santiago joined the cast of Guiding Light as mob mom Carmen in January 1999. She remained with the show through June 2000. She made several appearances in November of the same year before returning full-time in August 2001.
Since the announcement that she'd be exiting the show, Internet rumors have tapped Santiago as the leading candidate for a role on ABC's All My Children. According to Internet chatter, Santiago will play the mother of Simone Torres (played by actress Terri Ivens). An ABC spokesperson explained that it is not network policy to comment on rumors.
Santiago filmed her final scenes for Guiding Light on December 3rd. Her on-air finale will come January 2nd, 2003.