John Conboy has been named the new executive producer of Guiding Light. Conboy succeeds Paul Rauch who
stepped down last month
after six years at the show's helm.
"We are thrilled and lucky to have John at the helm of our show," said Mary Alice Dwyer-Dobbin, Executive in Charge of Production for Procter & Gamble "He is an impressive visionary with a sterling reputation, multiple Emmy Awards in daytime and prime time television, intensive experience in all aspects of daytime drama and, he is a great leader. We welcome him to the company and are very excited about his plans for the show."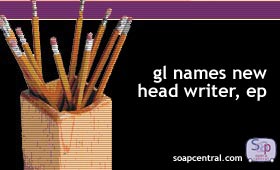 Dwyer-Dobbin had been acting as an interim executive producer for Guiding Light while the show sought out Rauch's successor.
Conboy is hardly a newcomer to the soap opera genre. In the late 1960s Conboy produced Love Is A Many Splendored Thing. He quickly became known for creating eye-catching visuals - including fresh floral arrangements and elegant décor. Before this time, the emphasis had been on the dialogue and story.
In 1973, Conboy became the producer of
The Young and the Restless
. Under Conboy's reign, Y&R quickly became one of the top-rated soaps. Just two years later, The Young and the Restless was named Outstanding Daytime Drama at the Daytime Emmy Awards.
In 1982, Conboy left his role at The Young and the Restless and helped launch Capitol, a thirty-minute soap. Capitol earned the highest ratings for a new soap and had a five-year run. In 1991, Conboy briefly served as executive producer for NBC's Santa Barbara. Upon his departure, Conboy was succeeded by Paul Rauch.
In being named executive producer, Conboy reportedly "beat out" several other high profile names, including former long-time executive producer of The Young and the Restless Edward Scott and the Emmy-winning former executive producer of
One Life to Live
Gary Tomlin.
RELATED STORY: ELLEN WESTON NAMED GL'S NEW HEAD WRITER