While Guiding Light continues its search for a new executive producer, the show has managed to come up with someone to take over the helm temporarily.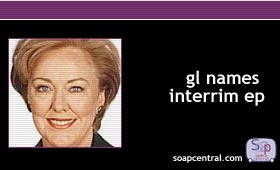 Mary Alice Dwyer-Dobbin, the Executive In Charge of Production for Procter & Gamble Productions, will take charge of Guiding Light and remain on board until a permanent replacement for former EP Paul Rauch is found.
There is already speculation that Guiding Light might tap Edward Scott as its new Executive Producer. Scott served as executive producer of
The Young and the Restless
and was with the top-rated program for 25 years. Scott is the husband of Y&R star Melody Thomas Scott (Nikki Newman).
Also rumored up for the EP spot is former One Life to Live executive producer Gary Tomlin. Tomlin earned an Emmy in May as One Life to Live was named Outstanding Drama Series.
Tomlin, however, was recently released
at the show's guiding force.
Paul Rauch
announced last month
that he would be stepping down as executive producer, a position he had held for seven years.
According to inside sources, GL expects to name a new full-time executive producer by the first week of December.
RELATED STORY: OLTL EP TOMLIN FIRED