Though rumors persist to the contrary, a spokesperson for Guiding Light insists that the show will not be recasting the role of Roger Thorpe.

Last month, Guiding Light newcomer Joan Collins (Alexandra Spaulding) raised eyebrows when she hinted that the character of Roger Thorpe would be returning to Springfield. The remark was picked up by various media outlets, which reported that a "major star" had been tapped to tackle the part.

Roger has been off the GL canvas since 1998. Michael Zaslow played the part of the dastardly Roger from 1971 to 1980. He reprised the role in 1989 through 1997. Zaslow left in 1997 due to failing health.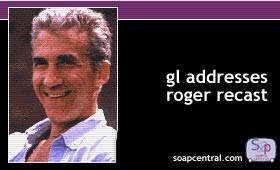 Zaslow suffered from amyotrophic lateral sclerosis (ALS), an illness that claimed his life on December 6, 1998. Zaslow sued Procter and Gamble, the production company of Guiding Light, over his dismissal. The case was settled out of court.

Dennis Parlato was hired to replace Zaslow as Roger, but fans were furious that the actor they'd grown to love was no longer played the villain. Parlato's stint didn't last long and the actor and character were written off the show in 1998.

Since that time, Roger had been seldom mentioned - until earlier this year. The sudden mention of the character's name prompted some viewers to wonder if the show was going to again try recasting Roger. Collins' remarks only fueled the fire.

A spokesperson for Guiding Light, however, refutes any and all claims that Roger will be returning. "The role is not being recast," a spokesperson tells Soap Opera Central.