Soap fans are known industry-wide for their sometimes rabid interest in their favorite daytime dramas. Let's face it-soap fans are a pretty loyal and determined bunch. Now fans of Guiding Light have a new way to become closer to their favorite show.

A.C Chase (www.acchase.com), which supplies jewelry and accessories to celebrities and television shows, is now offering select items seen on Guiding Light for sale on its web site. Each piece is handcrafted and identical to those worn on the show. The Reston, Virginia based company is also offering items from its Entertainment Tonight collection.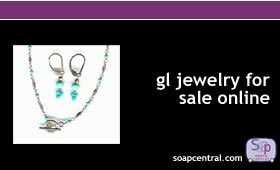 "Guiding Light and Entertainment Tonight were obvious choices for our opening," said Ann Stephens, A.C. Chase CEO. "Both are among the longest running television programs in the U.S., and have loyal viewers. We anticipate this will bring a larger audience to each program, while also creating a bond between the viewers and the shows. Moreover, I believe that people who come to our web site will be pleasantly surprised at the unique designs offered."

"A.C. Chase jewelry is unique because it works equally well with casual and formal outfits," said Shawn Dudley, costume designer at Guiding Light. "People have been asking me for years where to find this jewelry. Now everyone can look like a star."

Soap Opera Central receives hundreds of messages from soap fans each week asking what song played in a particular scene or what color lipstick a certain performer was wearing. Soap opera publications are also inundated with similar questions or requests to see photographs of hairstyles of clothing. While not every piece of jewelry seen on Guiding Light will be available for purchase through A.C. Chase, the retailer does offer pieces worn on-screen by Beth Ehlers (Harley Cooper) and Crystal Chappell (Olivia Spencer).

A.C. Chase follows in the footsteps of ABC Daytime, which has been offering jewelry and other items seen on the ABC soaps - Port Charles, All My Children, One Life to Live and General Hospital - for about a year. By fall, A.C. Chase hopes to expand its offerings to include at least a dozen shows.

OFFICIAL CONTEST RULES

The contest is open to all Soap Opera Central visitors - regardless of the soap or soaps that he or she views on a regular basis.

In order to participate in this contest, visitors MUST be signed up to receive the FREE weekly Soap Opera Central newsletter.

If you are already receiving the newsletter, you're eligible to win.

If you are not yet signed up, you can do so for FREE by visiting http://soapcentral.com/maillist/ Follow the subscription instructions on the page and then watch your Email for a confirmation letter.

On Wednesday, July 17th, all mailing list subscribers will receive a special message with instructions on how to enter to their name into the drawing for the A.C. Chase gift certificate. You must be a registered member of the Soap Opera Central newsletter by midnight (Eastern) on July 16th in order to be eligible for the contest.

No purchase is necessary to enter the contest and there Soap Opera Central newsletter is available at no cost to Soap Opera Central visitors.