GL Names Millee Taggart To Writing Team
By
Dan J Kroll

Posted Tuesday, March 05, 2002 9:15:40 PM
Share this story
Veteran soap opera scribe Millee Taggart has been named to the head writing team of Guiding Light. Taggert will join head writer Lloyd "Lucky" Gold and co-head writer Christopher Dunn.

"We are delighted to have Millee Taggart join us at Guiding Light," said Guiding Light executive producer Paul Rauch. "Millee's deep awareness of character and strong sense of plot development are considerable assets that will complement the talents of Lucky and the Guiding Light creative team."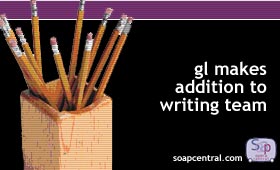 With 20 years experience in the soap opera genre, Taggart is no stranger to the world of daytime television. Taggart's most recent stint was for ABC's Port Charles where she served as a story consultant. Prior to that, she served as head writer for As The World Turns (1983 to 1984), Ryan's Hope (1985 to 1987), Loving (1988 to 1991; 1992 to 1993) and All My Children (1996 to 1997). Taggart also served previously as Guiding Light's head writer in 1994.

For her work as a writer, Taggart has received an Emmy and four Writer's Guild awards.

Taggart's experience in daytime television extends in front of the camera as well. As an actress, Taggart performed on The Edge of Night, Search for Tomorrow and One Life to Live, and appeared in the feature film Young Doctors in Love, Garry Marshall's 1982 spoof of soap opera.

Taggart's addition to the Guiding Light writer team is effective immediately.