Light stops shining for three GL stars
By
Dan J Kroll

Posted Wednesday, July 04, 2001 12:04:13 PM
Updated Sunday, August 12, 2001 7:39:05 PM
Share this story
One of the side-effects of a new writing team taking over on a soap is the occasional need to "clean house." Since a new head writer will most likely want to develop their own new characters for a show, any characters created by the previous writing team are often discarded.
That phenonenon would apparently explain the sudden release of three Guiding Light stars: Ryan Brown (Billy), Mark Dobies (Noah) and Paula Garces (Pilar) have all been let go.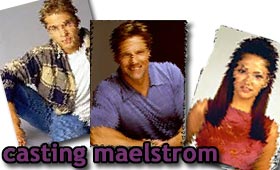 Garces and Brown's departures may not come as a surprise to some viewers. In fact, since these two performers have been so scarcely seen in recent months, some viewers may have thought that they were already gone. According to a show source, Garces and Brown will remain off-screen and their characters will not have farewell scenes.
Though still unconfirmed by CBS, Soap Central has learned that Mark Dobies will exit Guiding Light in early August. Soap Central first reported
---