Guiding Light's resident mob mom is back. That's right, Carmen (played by Saundra Santiago) is making her return to Springfield --- just in time to throw a wrench into Danny and Michelle's reunion.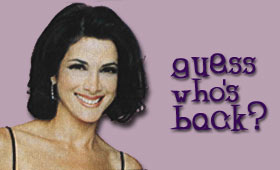 Here's the set up for the return, Danny and Michelle finally admit that they are still in love with each other. Hoping to nurse those feelings that they have, they make plans to flee Springfield and start over elsewhere. Before they can make their getaway, Michelle is drugged and kidnapped and taken to the docks. There, she meets Carmen.
Michelle soon realizes that Carmen has been around the whole time, thereby explaining why she's smelled Carmen's perfume.
Following are the results of a Soap Central poll conducted on Monday, November 6th.
QUESTION: Are you glad Carmen will once again be seen on GL?
Choice
Votes
Approximate %
Yes. I love the character and I'm glad she's back.
113
46%
No. I don't like the character and don't want her back.
56
23%
No. I hate 'back from the dead storylines.'
40
16%
Sort of. I'm glad she'll be back, but I think this is it.
33
13%
Other
6
2%
Total Votes
248