Effective immediately, soap vet Claire Labine will assume the reins of Guiding Light's writing team.
Soap Central initially reported Labine's impending arrival in Springfield on May 22nd. A spokeperson for Procter & Gamble, owners of Guiding Light, confirmed the report on June 5.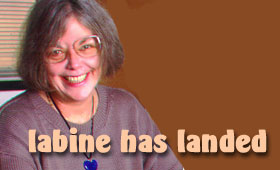 Labine is no stranger to daytime television. In recent years, Labine and son, Matt, served as co-head writers of ABC's One Life to Live. During her tenure in Llanview, Labine was responsible for Patrick Thornhart's "death" and subsequent escape with Marty to Ireland and Blair losing her baby in an auto accident. As joining Labine at Guiding Light will be her daughter, Eleanor Labine Mancusi.
Prior to their work on One Life to Live, the Labines worked on General Hospital. In what has been deemed a "renaissance" of the show during their reign, The Labines were responsible for three Daytime Emmy wins --- one for Outstanding Writing and two for Outstanding Drama Series. A sampling of their award-winning work, were two storylines which rank among the top storylines in General Hospital history: Stone's death from AIDS and the heart transplant of young Maxie.
Prior to Labine's placement, Guiding Light had been helmed by Barbara Esensten and James Harmon Brown. The pair assumed the top spot in 1997. Critics of their work fault the pair for strained, occasionally unbelievable storylines that have seen the soap's ratings slump to near-record lows. Among the storylines that have caught backlash from fans and critics was the clone storyline from the spring of 1998.
Reaction to Labine's joining GL came quick. GL executive producer, Paul Rauch, stated, "We're thrilled to have Claire join and lead our writing team. She has a deep respect for the show's rich history and the extraordinary ability to write character driven stories."
Labine-penned storylines are expected to hit the airwaves on August 7th.