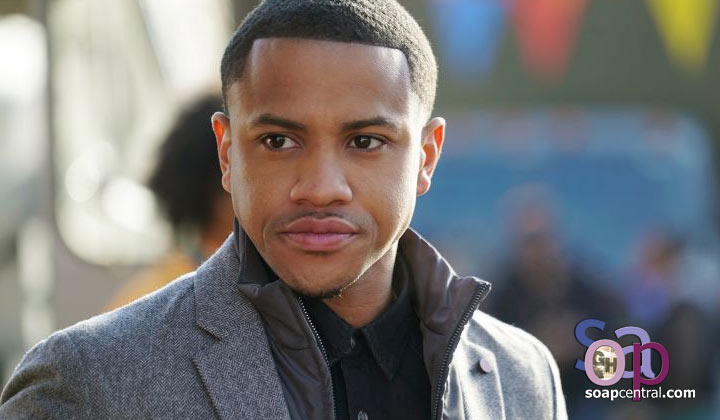 Thomas Ashford, Jr.
Krys Meyer
Tequan Richmond
Uses the name T.J. Student
Employed at Kelly's Diner 325 Wharf Street, Port Charles, New York Single/Never Been Married None Thomas Ashford, Sr. (father; deceased)
Shawn Butler
(legal guardian) None
Molly Lansing
(dated)
Taylor Dubois
(lovers)
Broke in to Kelly's diner and stole food [Jan 2012]
Stole a car and went joyriding [Jan 2012]
Posed as an employee at the Metro Court hotel and charged guests a handling fee for assistance with their luggage [Feb 2012]
Hosted an underage drinking party at Molly Lansing's house [Feb 2012]
Assault; Punched Rafe Kovich [May 2013]
Underage drinking [Jun 2013]
Experienced a fever after being exposed to a toxin placed in the town's water supply by Jerry Jacks [Sep 2012]
Troubled teen T.J. Ashford arrived in Port Charles on Shawn Butler's doorstep after his mother decided she could no longer handle raising him. T.J. had been given the choice to either take up residence with Shawn or attend military school. Shawn was reluctant to take T.J. in until T.J. reminded Shawn that he would not have to turn to him if Shawn had not killed his father. Shawn reminded T.J. that his father had been a good friend and fellow Marine and his death had truly been an accident.
Shawn did agree to allow T.J. to move in with him and he enrolled in the same high school as Molly Lansing. Molly offered to tutor T.J. while he adjusted to the new school. T.J. was more interested in the work Shawn did for the Corinthos organization than school but Shawn refused to allow T.J. anywhere near the business of organized crime. Regardless, T.J. tested Shawn almost immediately. He stole a car and took it for a joyride until the police caught up with him. Molly's mother, attorney Alexis Davis, arranged for the charges to be dropped.
Shawn believed that Molly would be a good influence on T.J. and he arranged for the teens to continue to spend time together. Molly realized that T.J. was unable to read and she offered to teach him. In return, T.J. agreed to help Molly increase her popularity and he created a "Myface" account for her under a false name. He also hosted an underage drinking party at Molly's home. The party was broken up by Alexis and she banned Molly and T.J. from having any further contact.
T.J. and Molly ignored her mother and they started to date in secret. Once Alexis realized that T.J. and Molly were together she ordered them to end their relationship. Shawn intervened on the young couple's behalf and convinced Alexis to allow them to spend supervised time together.
Shortly after T.J. and Molly received approval on their relationship they both faced death after Jerry Jacks poisoned the town's water supply with a deadly toxin. Molly and T.J. contemplated making love so they would be able to share that experience before they died but decided against it. They spent what they believed were their final hours together and celebrated together when they learned that an antidote existed and they would survive.
existed and they would survive. Several months later, T.J.'s trust in Molly waivered after she befriended a teenaged boy named Rafe Kovich. Molly insisted that she and Rafe were only friends but T.J. became jealous of the time the pair spent together. T.J. was shocked by Molly's actions after she helped Rafe escape from police custody and hid him at her home. T.J. warned Rafe to stay away from Molly and tried to rein in his jealousy but Molly was hurt by his lack of trust. Molly broke her plans to attend prom with T.J. and he believed that she wanted to be with Rafe instead. T.J. turned to Taylor Dubois for comfort and they slept together.