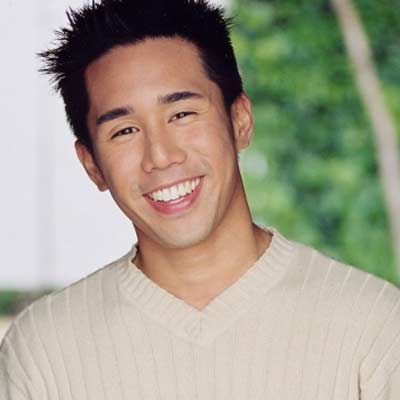 Brad Cooper
Parry Shen
Manager of the lab at General Hospital
Former lab technician at General Hospital Unknown Single None Kim Soong Wu (biological father; deceased)
Unnamed biological mother (deceased)
Mr. Wu (paternal grandfather; deceased)
Jade Soong Wu (paternal aunt)
Mr. Cooper (adoptive father)
Mrs. Cooper (adoptive mother)
*Brad's mother died while giving birth to him and he was raised by adoptive parents (revealed Jan 24, 2014) None
Michael Corinthos III
(flirtation)
Felix Dubois
(kissed)
Lucas Jones
(one-night stand)
Conspired with Britt Westbourne and helped her fake hyperemesis gravidarum during her pregnancy and in exchange Brad received a promotion [May 2013]
Attempted to blackmail Michael Corinthos III into exchanging sexual favors for Brad's silence regarding Michael's feelings for Kiki Jerome [Aug 2013]
Conspired with Britt Wesbourne and allowed her to steal embryos from Dante Falconeri and Lulu Spencer (Britt later gave birth to Dante and Lulu's child) [revealed Dec 17, 2013]
Unknown
Lab technician Brad Cooper was not well known around the hospital until he was promoted to lab manager in May of 2013. Brad's colleague Ellie Trout was passed over for the promotion and Ellie, along with several of her friends, wondered if Brad's promotion was related to his friendship with Dr. Britt Westbourne. The suspicions regarding a connection between Brad and Britt were correct. Britt claimed to pregnant with Patrick Drake's child and conspired with Brad to fake a complication with the pregnancy in order to garner attention from Patrick. In return, Brad received a promotion.
While Britt and Brad worked to keep their association secret, Brad enjoyed the tactics Felix Dubois used to uncover the truth regarding Britt's pregnancy. Felix flirted with Brad but Brad realized what Felix was up to. Then Brad met Michael Corinthos and expressed his interest but Michael did not return Brad's feelings. Regardless, Brad hoped to blackmail Michael into spending the night with him after he learned that Michael had kissed a woman he believed was his own cousin. Brad's attempt to spend time with Michael did not work out and Brad later admitted to Felix that he was lonely and desired to be in a relationship.
After Brad opened up to Felix, the two became closer until Britt gave birth to a son and named Brad as the child's father. Brad appeared to be shocked and angered by the announcement and did not step in to care for Britt or her child. However, he did not deny that he had fathered the child. Instead, Brad tried to convince Felix that he was a good person by going public with a private conversation he had overheard between Maxie Jones and Damian Spinelli. Brad had heard them admit that the child Dante Falconeri and Lulu Spencer were raising was Maxie and Spinelli's biological child.
Brad remained relentless in his pursuit of Felix and Felix started to spend more time with him. However, Felix still struggled with Brad's lack of involvement in his son's life. Brad continued to lie for Britt even at the expense of his blossoming relationship with Felix, although Brad knew he was not the father of the baby. He knew that Britt had stolen embryos from Dante and Lulu and had given birth to their child. When Dane and Lulu started to ask questions about the embryos, Brad perpetrated Britt's lies.
Brad's conspiracy with Britt caused Felix to pull back each time they seemed to get close and Brad started to doubt that he would ever have a chance with Felix. At the same time, Brad met Lucas Jones at the Floating Rib and they commiserated over their shared familial experiences. Brad had been raised by adoptive parents but had discovered in adulthood that his biological father Kim Wu, had been a member of an organized crime family in Port Charles. Lucas had a similar discovery with his biological father. Brad and Lucas spent the night together and Lucas hoped it was the start of something between them whereas Brad continued to have feelings for Felix.