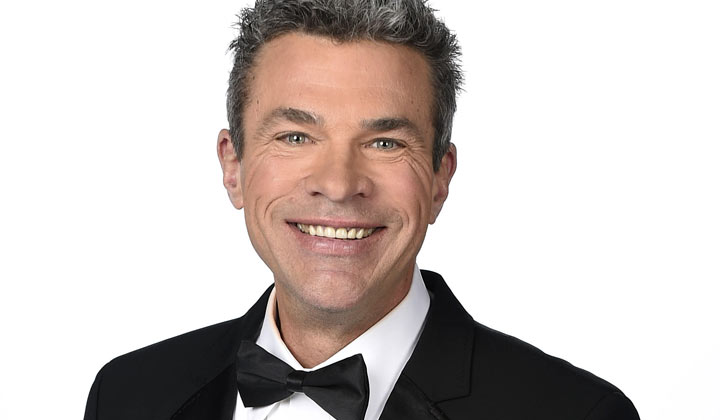 John Joseph Robert York
Share this story
February 14, 1991 to November 2001 [contract]; November 2001 to March 2003 [recurring]; March 2003 to Present [contract]
James Meadows
1997 to 1998
York, a native of Chicago's South Side, studied marketing for two years at the University of Whitewater in Wisconsin before returning to Chicago to study acting with Edward Kaye-Martin. He made his professional debut at the Wisdom Bridge Theatre, where he appeared in Picnic, Loss of Roses, Career and Golden Boy.

York moved to Hollywood in 1983 and began appearing on such television series as 21 Jump Street, Murder, She Wrote, Sydney, Family Ties, Newhart, Hunter, and Arthur Hailey's Hotel. He then starred for two seasons as Eric Cord on Werewolf, a horror-action series.

His feature film credits include roles in Steel and Lace, House of the Rising Sun, The Bear (about University of Alabama coach Bear Bryant, with Gary Busey), and Chattanooga Choo Choo. During the filming of the latter project, York met his wife, Vicki, a casting director. They were married on August 15, 1986, and have a daughter, Schyler.

In the few leisure moments he has, York enjoys spending time with his family, riding his bike, working in the yard and garden, and playing golf.
One on One
Dave Smith
Ep: "I Hear White People" (2003)
Even Stevens
Barry Hudson, Jr.
Ep: "Hardly Famous" (2002)
Clueless
Mr. Mazza
1997-1998
Port Charles
Malcolm "Mac" Scorpio
June 1, 1997 to September 5, 2002; [recurring]
General Hospital
James Meadows
1997 to 1998
Closer and Closer [TV Movie]
B.J. Connors
1996
General Hospital
Malcolm "Mac" Scorpio
February 14, 1991 to November 2001 [contract]; November 2001 to March 2003 [recurring]; March 2003 to Present [contract]
21 Jump Street
Ep: "Unfinished Business" (1990)

Thunderboat Row [TV Movie]
Lon Otto
1989

Murder, She Wrote
Jonas Holt
Ep: "Fire Burn, Cauldron Bubble" (1989)

Family Ties
Matthews
Ep: "Basic Training" (1989)

Werewolf
Eric Cord
July 1987 to March 1988

Newhart
Ep: "Jail, Jail, The Gang's All Here" (1987)

Hunter
Robert Kephart
Ep: "True Confessions" (1986)

Hotel
Alan O'Connor
Ep: "Undercurrents" (1986)

Hotel
Tim Fiedler
Ep: "Love and Honor" (1985)

Dynasty
Workman
Ep: "The Proposal" (1983)

Hotel
Tony Fanzo
Ep: "Flashback" (1983)
Patient 14
Grant Kane
2003
Steel and Lace
Craig
1991
House of the Rising Sun
James
1987
Night of the Creeps
Todd
1986
Chattanooga Choo Choo
Mickey [uncredited]
1984
The Bear
Manning
1984
Soap Opera Digest Award
Nominee, Outstanding Male Newcomer (1992) PLACE OF BIRTH: Chicago, Illinois
DATE OF BIRTH: December 10th, 1958
HEIGHT: 5'11"
HAIR: Light Brown
EYES: Green
MARITAL STATUS: Married; Vicki Manners (August 15th, 1986)
CHILDREN: One daughter named Schyler
News Archive
: John York returning as GH's Mac Scorpio? [Dec 1, 2015]
News Archive
: New film reunites GH cops Taggert and Mac, and adds in B&B's Katherine Kelly Lang [Mar 9, 2016]
News Archive
: GH welcomes back Kristina Wagner and John J. York [Dec 23, 2016]