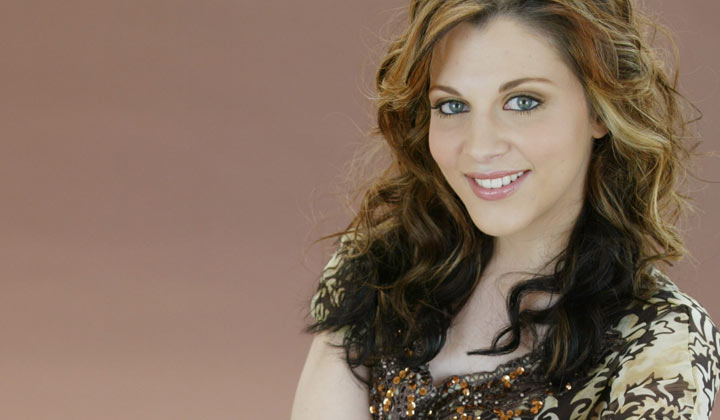 Adrianna "Adrianne" León
Born Adrianna León in San Diego, she began entertaining from a very young age. In fact, at just six years old she began singing at weddings and at age ten she started performing in musical theater. In addition to numerous theater credits, as "Adrianne" has also appeared in commercials for Vons (Los Angeles-based supermarket chain), Glamma Jammas. She sang the songs "Everlasting Dream" and "She Heals You" in the movie
Hollywood's Magical Island: Catalina
. In addition to being a talented singer, she is a talented song writer. She sang three songs in Disney's
Snow White
DVD: "Bliss", "I Would Do Anything" (both of which she co-wrote), and "Satisfaction Guaranteed." She also co-wrote the song "Redeem Me" for an episode of General Hospital.
Adrianne spends her spare time writing and recording music, jamming with Caught Crimson (her band), playing guitar, boating, snowboarding, and decorating her apartment, as well as her dressing room. In addition she loves designing makeup, hosting dinner parties, late night Starbucks runs with her friends, dancing, watching the WNBA and the following sports, particularly boxing, fencing, archery and shooting.
Along with acting and singing, she intends to continue her college education and pursue her interest in entertainment or family law, business marketing, and/or journalism.
The Young and the Restless
Colleen Carlton
January 18, 2006
to
July 17, 2007
General Hospital
Brook Lynn Ashton
May 31, 2004
to
January 17, 2006
;
May 21, 2010
to
April 11, 2011
Anne of Green Gables
A Little Princess
Jungle Book
The Wizard of Oz. Daytime Emmys Nomination, Outstanding Younger Actress (2005, for
General Hospital
) PLACE OF BIRTH: San Diego, California
DATE OF BIRTH: March 15, 1986
HEIGHT: 5'6"
HAIR: Brown
EYES: Blue
News Archive
: In surprising move, GH star jumps to Y&R. [Dec 12, 2005]
News Archive
: Leon to make GH exit, Y&R debut in same week. [Jan 9, 2006]
News Archive
: Y&R dismisses Leon, actress caught off guard. [Jun 18, 2007]
News Archive
: Sursok set to exit Y&R as Colleen recast rumors swirl. [May 19, 2008]
News Archive
: Adrianne Leon headed back to Brook Lynn -- on GH. [Mar 18, 2010]