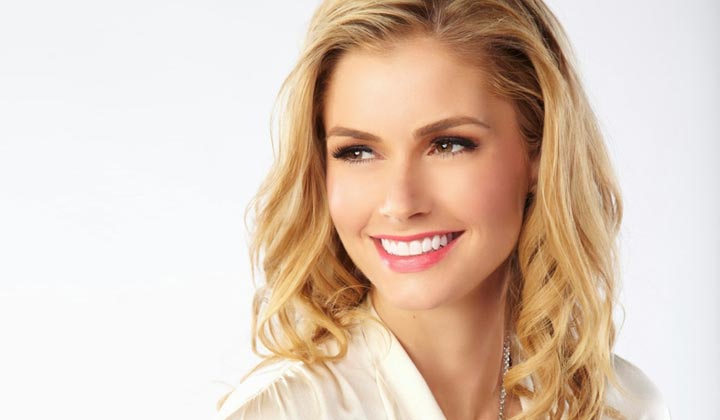 Brianna Brown
Film and television actress Brianna Brown joined the cast of General Hospital in January 2010. Having previously appeared on TV shows like
Smallville
,
Monk
,
Shark
, and
Criminal Minds
, and films like
Knocked Up
,
The 40-Year Old Virgin
, and
Spider-Man 2
, Ms. Brown signed on to GH as the new face for Dr. Lisa Niles.
A Minnesota native living in Los Angeles, she enjoys running, hiking, yoga, skiing, soccer, singing, dancing, reading and being involved with charitable organizations. In 2005, she started a women's goal group called "The New Hollywood." The group consists of 26 women in Los Angeles, with a branch in New York as well.
General Hospital
Lisa Niles
January 6, 2010
to
June 21, 2011
;
September 19, 2011
to
October 24, 2011
Criminal Minds
Megan Kane
2009
The Closer
Lauren Clark
2009
Without a Trace
Bobby Kruger
2008
CSI: NY
Heidi Pesco
2007
Dash 4 Cash
Noelle
2007
Shark
Carrie Reed
2006
Monk
Joanne Raphelson
2006
Entourage
Jewelry Salesgirl
2005
Joey
Elsa
2005
Smallville
Abigail Fine
2004
CSI: Miami
Amanda
2003
Lost at Home
Lisa
2003
Robbery Homicide Division
Jules Azar
2002
CSI: Crime Scene Investigation
Jane Galloway
2002
Off Centre
Customer
2002
Special Unit 2
Candy
2001
Freaks and Geeks
Perky Blonde
2000
Search for the Jewel of Polaris: Mysterious Museum
Kim
1999 The Encounter
Bretta Louie Van Seil
2010
The Lost Tribe
Alexis
2009
Detached
2009
Timber Falls
Sheryl
2007
Knocked Up
Alison's Friend
2007
No Destination
Aryl
2007
Love's Abiding Joy
Melinda Klein
2006
Night of the Living Dead 3D
Barb
2006
Adam and Eve
Cindy
2005
Ex Post Facto
Lynn
2005
Conversations with Other Women
Bride
2005
The 40 Year Old Virgin
Bar Girl
2005
The Storyteller
Susan
2005
Spider-Man 2
Train Passenger
2004
Hollywood Homicide
Shawna
2003
Yuri & Me
Dee Dee
2003
The Animal
Other Mob
2001 PLACE OF BIRTH: St. Paul, Minnesota
DATE OF BIRTH: October 2, 1979