When James Franco reprises his role as the diabolical Franco later this month, he won't be coming alone. The actor will be accompanied by an Academy Award nominee and his real-life mother.
Veteran actor Bruce Davison has been cast in the short-term role as Franco's European art dealer, Wilhelm Van Schlagel.
Davison is known for numerous television, film, and stage roles. Some of his television roles include a stint on The Practice, an Emmy-nominated guest spot on Touched By An Angel, and Lost. In film. He's appeared in X-Men, Mame, and nearly two dozen other films. In 1991, he was nominated for an Academy Award for his work in Longtime Companion.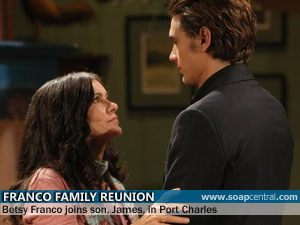 Davison will appear in three episodes beginning in early July.
Meanwhile, Betsy Franco will appear on General Hospital opposite her son, playing Franco's mom.
Betsy Franco is a noted author, having penned numerous books for children and young adults, including Mathematickles!, a collection of math poems.
Betsy Franco's appearance is short-term and will begin on Friday, July 2.
Photo Credit: Carol Kaelson/ABC