Recently, Rebecca Herbst (Elizabeth Webber) sat down with soapcentral.com to reflect on her time in Port Charles. It's been twelve years since the actress first set foot on the set -- and it's a day that she will never forget. During her time on GH, Herbst met her future husband, started a family, and earned a Daytime Emmy nomination. Regardless of the fame, Herbst still faces a problem that millions of Americans face: allergies and sensitive skin. So Herbst says that it was important to develop a skin care r egimien that helps her look Red Carpet ready every day of the year.
You just recently marked your 12th anniversary on General Hospital. Can you believe that it's been twelve years?

I feel so incredibly blessed to still be a part of the show. It truly blows my mind when people tell me my character is part of General Hospital history!
Do you still remember your first day on the set?

Absolutely! I was late getting to the stage because I got lost in the halls! Our director yelled at me, and I can remember telling myself, "Don't cry." Thank goodness I only had two scenes, where I was peering through a window, so I was able to keep it together. It still ranks in the top five worst days at work!
How do you think Elizabeth has changed from August 1997 to August 2009? And how have you changed in that time?

Elizabeth came to Port Charles as a smart mouth, troubled, lost teenager. Though her love life is still questionable, she has grown into a confident, strong and independent woman. Like Elizabeth, I feel I have gone from a little girl to a woman over the past 12 years. Fortunately for me, I've been married to a wonderful man for 8 years and I have two incredible children...by my husband!
We're rapidly approaching this year's Daytime Emmys. Of course you're an Emmy-nominated actress from an Emmy-winning show, but you think that this year will be less celebratory because of the cancellation of Guiding Light and the troubles that soaps seem to be facing?

It's unfortunate the Emmys have not been given the respect they deserve this year. However, we still have four amazing actors from our cast who have been nominated, and we will celebrate no matter what!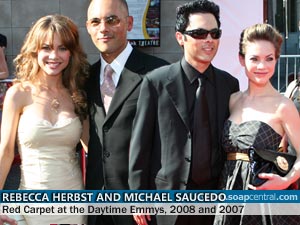 So many stars spend hours trying to find just the right dress so they'll be Red Carpet ready. In 2007, you were named one of soapcentral.com's Best Dressed at the Daytime Emmys, but you skip the stores and actually make your own dresses. How did that come about?

My mother used to make clothing for me and my sister when we were little, so I grew up learning how to sew. My mom and I have made my dresses for almost every award show; however, this is the first year we decided to skip it. The timing was a little more difficult with the Emmys being in August. Instead, I'm wearing a Nicole Miller dress. It's a light silk, tiered, summery dress. Originally it was past my knee in length, but I had it shortened to give it a little more life. I was drawn to the color of the dress because it happened to go so well with the Tory Burch purse and beautiful gold multi-strand bejeweled necklace I already bought for the Emmys! I guess it was meant to be!
Is there more pressure involved when you're making your own dress?

I think fashion is a personal expression, so when I walk out on the red carpet I'm not thinking of what people are saying I'm just enjoy sharing how I feel. I love making my own dress because I get have input on everything from color, fabric, length, style, etc. It's great to know that no one else on the Red Carpet will be wearing something similar.
Other than picking fabrics and sewing like crazy, what else is involved in your getting ready for the Red Carpet process?

I try to stick to a regular routine - eating healthy, exercising, drinking plenty of water and trying to get enough sleep. I always do my own hair for the Emmys, so I will play with it and do different styles the week before.
Obviously it isn't just the dress and accessories that get seen on the Red Carpet. Every year, women -- and men -- spend billions of dollars on cleansers, moisturizers, and other skin scare trying to find something that works for them. I know that you've been a user of PURPOSE® products for quite some time. How did you learn about PURPOSE® and why have you stuck with the products for so long?

I have a routine that I stick to everyday when it comes to the care of my skin. I wash my face every morning with PURPOSE® Gentle Cleansing Wash, and then I follow it with the PURPOSE® Dual Treatment Moisture Lotion with SPF 15. I use that rain or shine because it really protects and moisturizes my skin. I have suffered from eczema all my life due to allergies, and since I have been using PURPOSE® I have not had to use any prescription lotions.
…but what if someone doesn't have a soap star budget?

That's the great thing about PURPOSE®; you don't have to break the bank to get great skin. The PURPOSE® Gentle Cleansing Wash that I use is only $5.99 and the PURPOSE® Dual Treatment Moisture Lotion with SPF 15 is $8.99 - they both do wonders for my complexion, and no one would know that I only spent $15. Also you can find them at any local drugstore.
For your chance to win a year's supply of PURPOSE® skin care product, please check out our exclusive giveaway in our 2009 Daytime Emmy section
Photo Credit: Dan J Kroll/Soap Central
---

RELATED STORY
DAYS star Alison Sweeney talks about the serious side of allergies
---
2018 DAYTIME EMMYS: RED CARPET INTERVIEWS