In the 1980s, there was a television show called
Battle of the Network Stars
. In the 2000s, there's now a battle over the network stars between television shows -- and it all may be due to snubs in this year's Daytime Emmy nominations. A decision by one network to cast a high-profile star resulted in another network convincing the actress to bow out - and a frenzied attempt to recast the role soon followed.
Pity the casting department at The Young and the Restless. Just a short time after announcing the coup of casting Emmy winner
Finola Hughes
(
Anna Devane
, General Hospital) in the role of Zara Costelana, a short-term yet pivotal role, they were forced to rescind the announcement and start the casting call all over again. The reason? Hughes bowed out of the role after some gentle pressuring by ABC.
Upon learning that the CBS soap had hired Hughes to play Zara, Sabrina's manipulative mother, ABC and General Hospital put their muscle into pressuring Hughes to walk away from the Y&R role. Hughes had already agreed to return to General Hospital this summer on a recurring basis and ABC execs apparently worried that having Hughes on two soaps could dilute the impact of her GH return.
How fast did Hughes come and go from The Young and the Restless? Several media outlets, including
TV Guide
and
Soap Opera Digest
, had already gone to press with cover stories about Hughes' addition to the cast of The Young and the Restless.
"General Hospital always planned a big summer storyline revolving around the characters of Anna Devane and Robin Scorpio as the mother-daughter relationship continues to grow in the face of Robin becoming a mother for the first time," the network explained. "Upon learning Finola Hughes had booked a role in a short story arc on a competing daytime drama, General Hospital requested that she honor her commitment to our show, and she graciously obliged."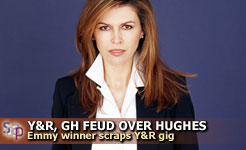 Top brass at The Young and the Restless is reportedly furious over Hughes bailing and the show is adamant that there was a firm deal in place between the show and the actress.
"The powers at the CBS-Sony soap are furious that their big casting coup was squelched and that Hughes caved in to ABC,"
TV Guide
soap columnist Michael Logan said.
Hughes herself believed there was no reason not to accept the offer from CBS. She is not on contract with General Hospital and is said to have had no idea that GH intended to use her anytime soon.
Now, however, the pressure is heavily on ABC, which will have to craft a storyline that lives up to its "big summer storyline" billing.
The Young and the Restless bounced back, successfully bringing in actress Cynthia Sikes to take over as Zara. Sikes began taping at Y&R on May 28 and will first air on June 19th. She is known for her roles on
JAG
,
Flamingo Road
, and
St. Elsewhere
.
Still, Y&R regrets the loss of Hughes.
"We think Finola is an exceptional actress," Y&R executive producer Josh Griffith said in a statement. "We're sorry things didn't work out, and we'd love to work with her in the future."
In other Hughes news, the actress' primetime series
How Do I Look?
returns to The Style Network on June 12. The fashion makeover show is now in its ninth season.