General Hospital has added three new characters to the roster, all of which will appear in recurring capacity. As always, these roles could potentially become contract roles if story is developed and if fan reaction is positive.
After much mention but no on-air time, veteran actor Bruce Weitz has been cast as Anthony Zacchara. Weitz is an Emmy-winning actor, perhaps best known for his work as Sgt. Mick Belker on the cop drama Hill Street Blues. Weitz has also appeared on ER, Judging Amy and Sisters. He will first appear on General Hospital on October 12th.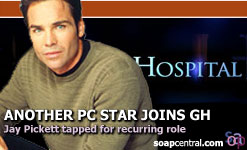 Former Port Charles star Jay Pickett (ex-Frank Scanlon) is the latest former PC star to hop over to General Hospital. He will play the recurring role of Detective David Harper. This is not the actor's first appearance on GH; in addition to crossovers between General Hospital and its spinoff, Port Charles, Pickett had a one-day engagement on GH as a temporary recast for Ted King's Lorenzo Alcazar in March 2006. With his new General Hospital role, Pickett joins Kelly Monaco (Samantha McCall; ex-Livvie Locke, PC), Kiko Ellsworth (ex-Stan Johnson; ex-Jamal Woods, PC), Eddie Matos (ex-Ricky Garza, PC; ex-Peter Marquez, GH) and Kent King (ex-Imani, PC; Lainey Winters, GH) as stars that have appeared on Port Charles, but joined General Hospital in entirely different roles. Pickett makes his first GH appearance on October 9th.
And Claire Coffee will appear as Nadine. The actress has appeared previously in guest-starring roles on NCIS, CSI and West Wing. She will first air on General Hospital on October 5th.



Ex-AJ, Sean Kanan, to appear in court on DUI charges. [Sep 12, 2007]