Robin Mattson's (Heather Webber) short-term run on ABC's General Hospital has come to and end. According to a show spokesperson, the actress is slated to tape her final episode later this month.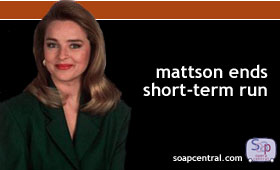 Mattson returned to General Hospital in June ending a 21-year absence with the show. Mattson had previously played Heather from 1980 to 1983. At the time of the announcement regarding her return, Mattson said that she hadn't expected to get a call about returning to General Hospital. After all, it had been over two decades since she'd last set foot in the fictional town of Port Charles. Head writer Charles Pratt, Jr. said that Heather's return would lead to "exciting story that even longtime... fans couldn't imagine." Mattson agreed that the return made sense and would also usher in a host of other story.
During her return engagement, Matton's Heather attempted to seduce recent widower Edward Quartermaine, framed Skye for murder and kidnapped Laura Spencer from a mental institution. Over the course of her daytime career, Mattson has developed somewhat of a knack for playing off-the-wall characters. From 1994 to 2000, Mattson played All My Children's Janet "From Another Planet" Green.
One thing Mattson says that she missed out on during her GH stint was the ability to "play out the mother/son relationship" with on-screen son Shaun Benson (Steven Lars Webber).
Mattson tapes her final General Hospital appearance on November 4. A final airdate has not yet been released.