General Hospital star
Rebecca Herbst
(
Elizabeth Webber
) and her husband, former GH star Michael Saucedo, are the proud parents of bouncing baby boy.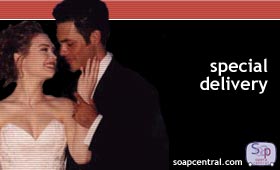 Ethan Saucedo arrived at 1:22am this morning weighing in at 7lbs. 5oz. The baby was 20 inches long.
"All family members are doing well and want to thank everyone for their prayers," read a statement on Herbst's official web site.
Herbst was in labor for quite some time -- over 15 hours.
"Becky's water broke at 8:30 AM PST, October 30, 2001," said a note on Herbst's web site.
In late August,
Internet rumors claimed
that Herbst's baby suffered from an undisclosed medical ailment.
"Becky and the baby are doing fine and everyone is looking forward to the new addition to the Herbst/Saucedo family," argued a message on Herbst's web site, citing news from Herbst's aunt.
Former co-stars Herbst and Michael Saucedo (ex-Juan Santiago) were wed on June 1, just a matter of days after the news of Herbst's
pregnancy leaked to the media
. This is their first child.
Herbst has already taken maternity leave from GH. Her on-screen departure date is November 7. There is no immediate word on when the actress will return to work.
---
---
RELATED INFORMATION
News Archives: Herbst, Saucedo expecting, to wed. [May 21, 2000]
About The Actor: Learn more about actor Rebecca Herbst.
Who's Who: Read a biography of Elizabeth Webber.
More Archived News: Review more past GH news headlines.
News and More: Return to soapcentral.com's GH FrontPage.

SOAPULARITY: WHAT'S TRENDING

MAKING HEADLINES: NEWS FROM AROUND THE SOAPS


We are testing changes to our Comments section. You can still log in to comment with Facebook, but you now have the option to log in with Twitter and Google, or with a Disqus account that is used on other sites with comments sections.