The last twelve months have been crippling for General Hospital, as the ABC soap has lost some of its most talented younger actors. The exodus included Emmy winners Jonathan Jackson (Lucky Spencer), Kimberly McCullough (Robin Scorpio), and Steve Burton (Jason Morgan), but also a handful of fan favorites, like Lisa Cerasoli (Venus) and Julian Stone (Jerry Jax), that further incurred the ire of faithful fans. Now, GH is faced with the possible loss of two-time Emmy winner Sarah Brown, who is rumored to be thinking of departing GH when her contract runs out in March. Seeing the success of Jackson on "the outside" has encouraged others to spread their wings and move out into prime time and the silver screen. ABC executives have been courting Brown like a love-sick suitor, doing nearly anything to get her to stay beyond March.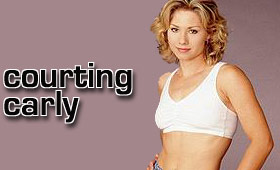 Brown's character, Carly Quartermaine, is currently knee-deep in a major storyline that is set to arc well beyond March of this year. Carly's world has been turned upside down as she deals with the consequences of her one-night stand with Sonny, through an unexpected and unwanted pregnancy, as well as losing the love of her life, Jason (Burton's character, Jason Morgan). With no where to turn, Carly has resolved to get herself out of her current predicament, but in the past, that has been a harbinger of disaster. Now, Carly is turning to her marriage to remedy her situation with the age old soap opera standby of passing one man's baby off as another's. Unfortunately for her, AJ (Billy Warlock) isn't as dumb as he looks. He refuses to sleep with her and she's back to square one. Rumors say that she is going to choose to have an abortion, but Bobbie will stop her, which brings her back to what to do about the pregnancy. If AJ finds out, he will assume that the baby is Jason's and there will be hell to pay as he holds that over her head. How could this classic daytime drama tale end in just two short months? Nah, she's got to stay... for the good of the fans.
Share this story with friends, family or the world.