Just call me Velcro. I tend to get attached to things, people, soap characters, and I won't let go. So when shows recast popular characters that I love, I get annoyed. I was shocked this week when I heard the news that Lexi Ainsworth, a.k.a. Kristina Davis, was fired.
Ainsworth did excellent work the past couple years with the abuse storyline and the mobster's daughter storyline. She has chemistry with her co-stars and goes toe-to-toe with heavyweights Nancy Lee Grahn and Maurice Benard. And despite Kristina's sometimes bratty behavior, I love her. The only explanation I can fathom for this cast shakeup is that Kristina's character will suffer the same fate as Michael, and will be rapidly aged, probably so she can pursue a modeling career and a romantic relationship with Ethan.
Usually, I detest rapid aging syndrome in soaps. I can't help but long for the days when we got to see an actor actually grow up in the same part. Those of us who are long-time viewers remember Robin and Lucky as small children, and it's realistic and comforting to see the same actors still in those roles today.
I usually have a long adjustment period for soap opera cast changes. Sometimes, it never happens, and the cast change completely ruins a character for me. After Sarah Brown exited as Carly, I pretty much fast-forwarded all her scenes, until Laura Wright took over the role.
On the flip side, sometimes a new actor grabs me right away. That's what happened when Chad Duell stepped in as "new" Michael. I was sure I would be reaching for the fast-forward button, because I loved Drew Garrett's portrayal. But, Duell had me from hello.
The "new" Kate Howard, Kelly Sullivan, is reeling me in, too. She is a fantastic actress, who is taking Kate in a new direction. But, I truly loved Megan Ward, and it's hard to let go of those memories. Velcro, remember.
I feel bad for any actor who has to step into an already existing role. Fans can be brutal. We're a tough crowd. So, if Kristina does head off to Yale for a few years, perhaps it would be best for everyone. GH fans have already had to adjust to a new Michael, a new Kate, and I would argue even a new Brenda, despite Vanessa Marcil still playing the role.
I can only wish Ms. Ainsworth good luck on what I'm sure will be a bright future and thank her for entertaining us all these years.
Meanwhile:
I know I'm going to take some heat for this, but I have to say it nonetheless because this is my opinion column. If I have to watch one more scene of Jason and Sam going in their honeymoon shack, after a trip to the beach, and talking again about fertility, I may poke out my eyes. These two characters are too intense to be playing the same scene again and again for an entire week. They need more to do than sex and off-screen surfing.
I was ducking from the sparks between Ronnie and "Connie" this week, when she blocked him from searching Sonny's warehouse. That chemistry was something I didn't see coming. I forgot for a minute that Ronnie shared a past with Kate, Dante, and the Bensonhurst crew.
Sonny must be wealthier than I thought. He hasn't resorted to torturing Spinelli on a meat hook yet to find that missing 20 million, and it's been months.
Between Steve's odd phone calls to an undisclosed job applicant and Kate's secret calls to a seemingly menacing threat, is it possible that two new characters are about to pop up in Port Charles? The only way I'm on board with this is if Steven is actually talking to his daddy, MacGyver, er, Richard Dean Anderson. There are already too many characters in Port Charles, and if there is room for two new people, those people should be Robert and Anna Scorpio.
If I never see Olivia on a stripper pole again, it will be too soon. She's gorgeous, but wow, I don't want to see that.
As much as I'm tired of the sibling rivalry of Patrick and Matt, it is realistic. I know plenty of siblings that bicker like that.
There are so many storylines dangling right now, I'm starting to forget plot points. Is Matt involved with the drug ring? Is the Cassadine mansion haunted? Is Jason getting ESP or a split personality? Will Spinelli ever regain his memory? And the list goes on and on. I think the writing team needs to pick up the pace on a few of these storylines before I forget that it's been months since that candle blew out on Alexis' porch, foreshadowing evil coming.
It's great to see Luke back in town and sober. I was stunned that he asked Tracy for a divorce though. I can't wait to see how this plays out.
So it looks like Lulu is hitting the bottle, and following in dear old Dad's footsteps, or should I say shot glasses? I guess Dante's shooting was the final straw that sent her over the edge.
Ethan is cracking me up, carrying Laura's portrait all over town. It's like a scene from
Weekend at Bernie's
. Where will she show up next?
I think Anthony is regretting waking Lisa from her coma about now, considering she took a 2x4 to his abdomen. I think Matt's party is about to become the cruise of terror. Those of you who have been missing the gun battles and violence, I think you are about to get your fix.
Best Lines of the Week
(Anthony tries to get Lisa to talk immediately after she wakes from a coma.)
Anthony: "What's the matter? Catatonia got your tongue?"
(Tracy shows up at Anthony's hotel room for his blackmail deal for a night of passion for his silence about her dirty dealings.)
Anthony: "Come in for some champagne."
Tracy: "There's not enough champagne in the world."
I love hearing your comments! If you'd like to share, please drop me an email by
clicking here
.
Jennifer Biller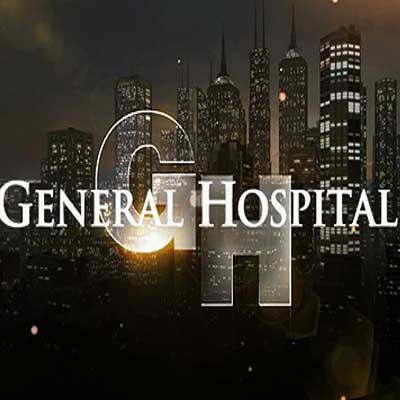 2018 DAYTIME EMMYS: RED CARPET INTERVIEWS